Mastectomy Treatment & Diagnostics in Karol Bagh, Delhi
Mastectomy
A mastectomy is a surgery to remove all tissues from the breasts to prevent breast cancer. As per the best mastectomy surgeons in Delhi, for early-stage breast cancer, a mastectomy may be a treatment option.
What is mastectomy?
Mastectomy is the partial or complete surgical removal or reduction of one or both breasts. Often, people consider it to be a prophylactic measure. Alternatively, some people also prefer to have a broad local excision, termed a lumpectomy. A minor volume of breast tissue, including a tumor and an enclosing margin of healthy tissue, is removed to protect the breast.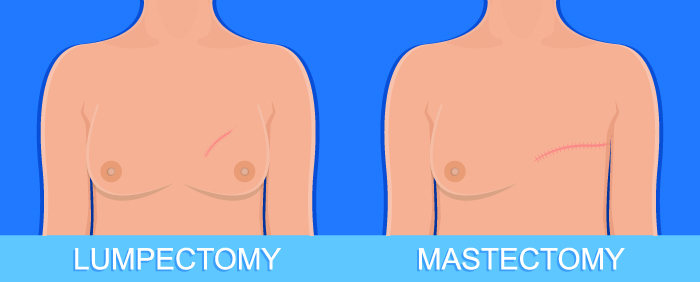 Who qualifies for the procedure?
This procedure is conducted in such cases:
Previously if you've had radiation treatment for the breast area and breast cancer has recurred
If you're expecting, and radiation poses a risk to your offspring
If you've had a lumpectomy, but cancer is not yet eliminated from the margin of the operated region, and there is a concern about cancer spreading elsewhere
If you have more than two tumors in distinct areas of the breast
If you have malignant-appearing calcium deposits (microcalcifications) throughout the breasts that have been assumed to be cancer after a breast biopsy near you.
If you are suspecting any of these, then kindly consult a mastectomy surgeon near you.
Request an appointment at Apollo Spectra Hospitals, Karol Bagh, New Delhi.
Call 1860 500 2244 to book an appointment.
Why is the procedure conducted?
A mastectomy is done to remove all breast tissue if you have breast cancer or are at a very high risk of developing it. You may have a mastectomy to remove one breast, named unilateral mastectomy, or both breasts, named bilateral mastectomy. This may be a preference to treat various types of breast cancer, liken Ductal carcinoma in situ (DCIS),Stages I and II (early-stage) breast cancer, Stage III (locally advanced) breast cancer, etc.
What are the different types of mastectomy?
Simple mastectomy: In this procedure, the whole breast tissue is removed without disturbing axillary contents.
Modified radical mastectomy: The whole breast tissue is removed along with fatty tissues and lymph nodes.
Prophylactic mastectomy: This procedure is used as a prophylactic measure to cure breast cancer. The surgery is conducted to remove all breast tissue.
Nipple-sparing/subcutaneous mastectomy: Breast tissue is removed, but the nipple-areola complex is retained.
Skin-sparing mastectomy: In this surgery, the breast tissue is removed through a cautious incision made around the areola, i.e., the dark part covering the nipple.
What are the risks?
Bleeding
Pain
Infection
Construction of heavy scar tissue at the surgical site
Swelling (lymphedema) in your limb if you have an axillary node dissection
Accumulation of of blood in the surgical area (hematoma)
Shoulder discomfort and immobility
Numbness, especially below the arm, from lymph node removal
Conclusion
A mastectomy is said to lower the chance of cancer recurrence to between 1 % and 3 %. Nevertheless, women may require radiation therapy or chemotherapy after mastectomy surgery. Mastectomy surgeons in Delhi will suggest the best way to get rid of any issue.
How painful is mastectomy?
If required, take pain medication as per your mastectomy surgeon's instructions.
What should I not do after mastectomy?
You have to avoid difficult movements, heavy lifting and forceful exercise until the stitches are removed.
Can I lie flat after surgery?
Most plastic surgeons suggest that patients who has had breast surgery sleep entirely on their back until they are completely cured.

Book Appointment