Hair Transplant in Karol Bagh, Delhi
Hair transplant helps people enhance hair growth. This procedure improves your quality of life in more ways than one, including boosting your confidence. So, if you wish to stop thinning of your hair or prevent yourself from going bald, you can opt for a hair transplant.
To know more, you can consult a hair transplant specialist near you or visit a plastic surgery hospital in Delhi.
What is hair transplant?
A hair transplant refers to a procedure wherein a plastic or dermatological surgeon will move hair to the bald area of your head. Generally, the surgeon moves hair from the back or side of your head to the front or top of your head.
Usually, hair transplants require use of local anesthesia. The majority of hair loss cases occur due to pattern baldness (permanent hair loss from the scalp). Your genetics play a huge role in it. The rest of the cases occur due to factors like stress, illness, diet, hormonal imbalance and medications.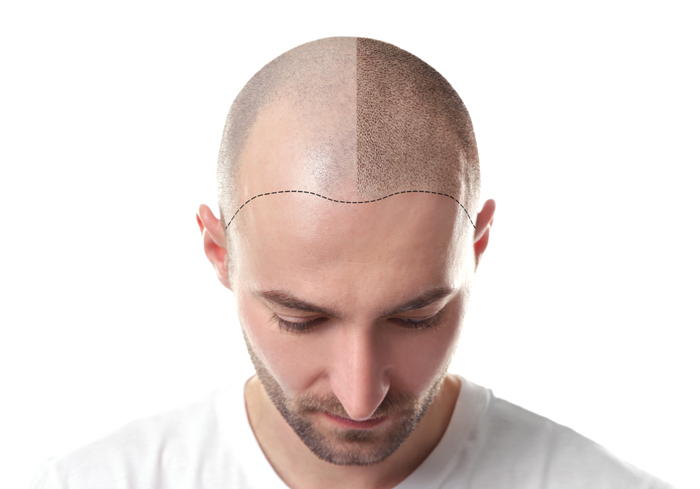 Who can benefit from a hair transplant?
There are several benefits of getting a hair transplant that ranges from enhanced appearance to a boost in self-confidence. Ideal candidates for hair transplant include:
Men with male pattern baldness
Women with thinning hair
Persons who lost their hair from a scalp injury or burn
On the other hand, a hair transplant is not a suitable option for:
Women with a widespread pattern of hair loss throughout the scalp
People with keloid scars (thick and fibrous scars) after surgery or injury
People who lack enough 'donor' sites from where hair is removed for transplant
People experiencing hair loss because of medication like chemotherapy
When do you need to see a doctor?
If you suffer from any of the conditions mentioned above, you can opt for a hair transplant. However, it is important to understand everything about it so that you can manage your expectations better.
Request an appointment at Apollo Spectra Hospitals, Karol Bagh, New Delhi.
Call 1860 500 2244 to book an appointment.
How is a hair transplant done?
There are different steps that your surgeon will take before, during and after your hair transplant. These include:
Your surgeon will thoroughly clean your scalp and numb an area of your head with local anesthesia.
Your surgeon will use either of the two techniques depending on your needs for obtaining follicles - Follicular Unit Transplantation (FUT) or Follicular Unit Extraction (FUE).
It usually takes four hours or more for a hair transplant session to get over.
After 10 days of surgery, your stitches will finally be removed.
Depending on your requirements, you may need up to 3-4 sessions. They will be held some months apart to allow each transplant to heal completely.
After your transplant, you may feel soreness in your scalp for which medications will be prescribed. These include pain medication, antibiotics and anti-inflammatory medications.
After 2-3 weeks of the procedure, your transplanted hair may fall out, which is totally normal. This allows new hair to grow.
In the majority of the cases, new hair growth will begin after 8-12 months of surgery.
Your doctor may also prescribe some medications for enhancing hair regrowth and slowing future hair loss.
What are the complications or side effects?
The side effects of a hair transplant are generally minor and go away within a few weeks. These can include:
Bleeding
Itching
Folliculitis (inflammation or infection of the hair follicles)
Swelling of the scalp
Infection
Bruising around the eyes
Crust formation on the area of the scalp where hair removal and implantation was done
Numbness or a lack of sensation on the scalp's treated areas
Shock loss
Unnatural-looking tufts of hair
Conclusion
After your hair transplant, your hair will keep growing in the transplanted areas of the scalp. The growth of the new hair will depend on your scalp laxity, hair caliber, the density of follicles in the transplanted zone and hair curl. Make sure that you discuss with your doctor the expected outcome of your transplant so that you have realistic expectations.
Reference
https://www.medicalnewstoday.com/articles/327229
https://www.thepmfajournal.com/features/post/a-guide-to-hair-transplantation
How long does it take for the transplanted hair to grow?
Typically, within a duration of 3 months, you can expect to see the growth of new hair. Between 6 months and 1 year, you will be able to see considerable changes as your hair will become longer, thicker and denser in volume.
Are the results of a hair transplant permanent?
Yes, the result of a hair transplant is permanent as it cannot be changed or undone. The results are visibly long-lasting as the procedure is time-consuming and involves a healing and recovery process.
Is there a non-surgical method of hair transplantation?
No, there is no non-surgical method of hair transplantation.

Book Appointment