Trauma and Fracture surgery Treatment & Diagnostics in Karol Bagh, Delhi
Trauma and Fracture surgery
Overview of Trauma and Fracture surgery
If you suffer from trauma in the ligaments, cartilages, muscles, tendons, or fractures in the hip, shoulder, knee, or ankle, you can undergo arthroscopy. This type of surgery, in which the doctor diagnoses and treats problems inside the joints, is termed arthroscopy. An orthopedic specialist near you uses an arthroscope to find the injuries inside the joint and fixes small tears at the joint surface.
About Trauma and Fracture surgery
Fractures and trauma occur due to overuse of weak bones, car accidents, falls, or sports injuries that might affect the severe functioning of your body. Trauma and fracture surgery performed by Orthopedic specialists in Delhi helps to treat fractures and stabilization of complex injuries. With the help of arthroscopy, this surgery becomes minimally invasive, less painful, and offers quicker healing of the wounds.
Who qualifies for Trauma and Fracture Surgery?
If you have any minor injury in the bones, ligaments, and cartilage, you can undergo trauma and fracture surgery with the help of arthroscopy. In case of chronic injury or multiple long bone fractures, arthroscopy isn't a suitable procedure since it is a minimally invasive surgery.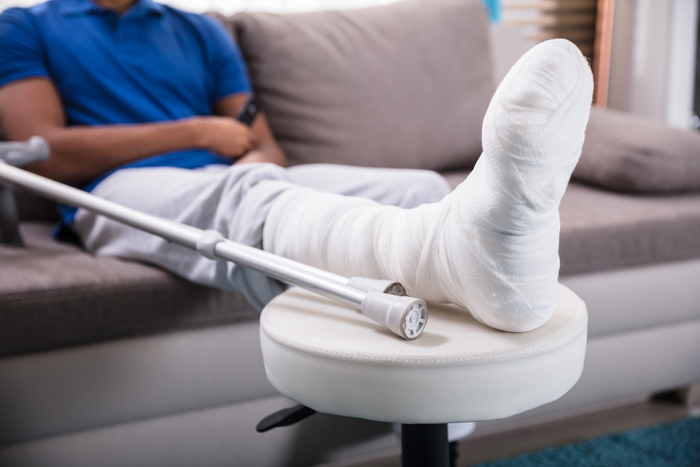 Why is Trauma and Fracture surgery conducted?
Arthroscopy can be used as a surgical procedure to treat many trauma and fractures like:
Complex tibial plateau fracture
Knee fracture
Minor hip trauma
Glenoid fracture
Acromioclavicular joint separation
Tuberosity fractures
Loose bodies in hip
Intra-articular injury
Femoral head fracture
When to see a doctor?
If you have a minor fracture in different joints and bones, you visit an orthopedic specialist near you. They will diagnose the extent and type of fracture by the imaging tests and provide you an apt treatment.
Request an appointment at Apollo Spectra Hospitals, Karol Bagh, New Delhi
Call 1860 500 2244 to book an appointment
How to prepare for Trauma and Fracture Surgery?
Before Trauma and Fracture Arthroscopy, avoid consumption of blood-thinning medicines, alcohol, and smoking. You must not eat anything after midnight before the surgery. Wear loose and comfortable clothing while visiting the hospital. Before Trauma and Fracture surgery, the orthopedic surgeon will check your vital signals using an electrocardiogram, perform a blood test and imaging tests by X-ray or Magnetic Resonance Imaging (MRI )scan.
How is Trauma and Fracture surgery conducted?
Before Trauma and Fracture surgery, the doctor will administer you with local or general anesthesia for sedation. The orthopedic surgeon will make a few small incisions at the site of fracture called portals. Through these portals, arthroscopic cameras and instruments can enter inside the skin. Through the arthroscope, sterile fluid flows in the joints for a clear view.
With the help of surgical tools and instruments surgeon cuts, grasps, grinds, and provides suction to repair the joint. It also helps to remove all the damaged cartilages, ligaments, and bone fragments due to trauma and fracture. The surgeon uses fixation devices like screws, wires, plates, or nails to maintain the position of the bones. After the surgery, the portals can be closed with the help of stitches and sutures.
After Trauma and Fracture surgery
You need to wear a sling, splint, or use crutches after the trauma and fracture surgery. After Trauma and Fracture Surgery, consume some medicines to reduce pain and swelling. Physiotherapy can help to regain the motion and strength of the respective bones and joints. You must avoid vigorous physical activities for a while after the surgery.
Benefits of Trauma and Fracture surgery
Arthroscopy is a minimally invasive surgery that treats patients with minimum incisions. There are many benefits of arthroscopy to perform trauma and fracture surgery:
Quick healing
Few stitches
Less painful surgery
Small incisions hence the lower risk of infection
Lesser damage to the tissues
Risks and complications associated with Trauma and Fracture surgery
Although trauma and fracture surgery using arthroscopy is a safe procedure, yet there are many risks associated:
Infection
Blood clotting
Bleeding
Stiffness
Accumulation of blood around the bones
Allergic reaction to anesthesia
Conclusion
Due to minor injuries and fractures, arthroscopy is the best surgery since it has fewer complications, less pain, and a quick healing process. With the advances in implants and instrumentation, arthroscopy will also treat chronic fractures. You must consult an orthopedic surgeon in Delhi to get details about the benefits of arthroscopy over open surgeries.
Sources
https://www.healio.com/news/orthopedics/20160804/use-of-arthroscope-in-fracture-fixation-still-up-for-debate
https://www.mayoclinichealthsystem.org/locations/owatonna/services-and-treatments/orthopedic-surgery/fractures-and-trauma
https://www.mayoclinic.org/tests-procedures/arthroscopy/about/pac-20392974
What is the best way to recover after the surgery?
To fasten the recovery, you must R.I.C.E. or rest, ice, compress, and elevate joints to reduce pain and swelling after the surgery.
What are different types of fractures?
Different types of fractures are:
Open fractures
Closed fractures
Displaced fractures
Comminuted fractures
Greenstick fracture
What is the meaning of reduction?
If you suffer from displaced fractures, the orthopedic surgeon manipulates the broken pieces of bones into their original process by the process called reduction.

Book Appointment