Rhinoplasty Treatment & Diagnostics in Karol Bagh, Delhi
Rhinoplasty
Overview of Rhinoplasty
Rhinoplasty, also known as a nose job, is a prevalent form of plastic surgery, which can effectively modify the appearance of one of the most prominent features of your face, your nose. In this procedure, surgeons alter or amend the skin, bone, and cartilage connected to your nose.
If the reason behind getting rhinoplasty is purely cosmetic, the surgeon advises you to wait till your nasal bone is ready. In girls, it happens at the age of 15, while for boys, it takes a few years more. However, if you need this surgery to rectify a breathing impairment, rhinoplasty can be safely performed on youngsters.
What is Rhinoplasty?
While rhinoplasty can improve the functionality and look of your nose, you must keep realistic expectations. During your visit to the plastic surgeon near you, discuss all the pros and cons of this surgery. Once you make up your mind, the surgeon evaluates your nose and facial features to identify ways to enhance your look.
In this procedure, the surgeon makes incisions inside or between your nostrils. Then, they start reshaping your nose by separating your skin from the bone or cartilage. If the new nose requires more cartilage, the surgeon takes it from your ear or from deep within your nose. If the requirement is a lot, then the surgery involves using a bone graft or an implant.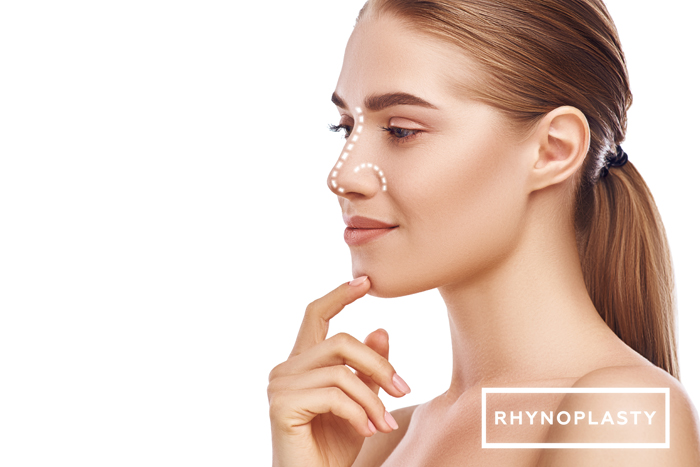 Request an appointment at Apollo Spectra Hospitals, Karol Bagh, New Delhi
Call 1860 500 2244 to book an appointment
Who Qualifies for this Procedure?
A rhinoplasty can prove beneficial for people belonging to the below-mentioned categories:
To correct disfigurement resulting from an accident or birth deformities.
For medical reasons like treating breathing problems.
To cosmetically enhance the shape and function of the nose.
Why is a Rhinoplasty Conducted?
With rhinoplasty, there are a variety of changes that a plastic surgeon can make to your nose. These are:
Changing the angle.
Changing in size.
Reshaping the tip of the nose.
Straightening the bridge.
Narrowing of the nostrils.
What are the Benefits of Rhinoplasty?
Rhinoplasty is a relatively safe procedure and comes with a wide range of benefits, which include:
Relief from congenital breathing problems.
Reduce your nasal tip.
Can treat chronic sinusitis.
It can correct congenital abnormalities.
It can fix a broken nose resulting from an accident or a sports injury.
Can address the issue of snoring.
Better sleep.
Add to your facial aesthetics.
Elevate your confidence level.
Some of the post-surgery effects can linger for months before you can begin appreciating these benefits.
Are There Any Possible Risks?
All surgeries carry a few risks. The possible risks associated with this surgery can be:
Reaction to anesthesia.
Bleeding from the nose.
Infection around the incision.
Scarring
Difficulty in breathing.
An asymmetrical nose.
Feeling of numbness in the nose.
Visit the plastic surgery hospital near you if you experience any of the above.
Conclusion
The swelling after a rhinoplasty goes away in a few weeks, but the finesse may take about a year to appear. You must follow your surgeon's instructions dedicatedly to prevent infection or any other complications.
Visit the best plastic surgery hospital in New Delhi to know more about rhinoplasty. Also, if you are not happy with the outcome of the surgery, set up an appointment with a plastic surgeon near you, who can suggest another surgery. However, wait till your nose completely heals after a rhinoplasty.
References
https://www.webmd.com/beauty/cosmetic-procedures-nose-job-rhinoplasty#1
https://www.healthline.com/health/rhinoplasty#recovery
https://www.plasticsurgery.org/cosmetic-procedures/rhinoplasty/procedure
What precautions do I need to take after a rhinoplasty?
It is advisable to avoid the following:
Swimming
Strenuous physical activities
Blowing your nose.
Chewing too much.
Pulling any clothing over your head.
Laughing, tooth brushing, or other facial expressions that involve lots of effort.
Resting eyeglasses on your nose
How is recovery after this surgery?
Generally, after the surgery, you may have to wear a nose splint for a few days. It helps in retaining the new shape. Try to keep your head elevated above your chest because it reduces swelling. The stitches are generally absorbable, and your surgeon gives medicines and ointments for faster healing.
Do not panic if you experience memory lapse, impaired judgment, discoloration of skin near your eyes, as these are temporary side effects. Also, avoid exposure to sunlight as it may cause discoloration of the skin around your nose.
What are the preparatory steps before this surgery?
Inform the doctor if you have any allergies, bleeding disorders, or any other health condition.
Also, your doctor must know if you take any medication, health supplements regularly.
If you smoke, stop smoking at least 2-3 weeks before the surgery.
Stop alcohol consumption a week before.
Do not eat or drink anything after midnight, before the surgery day.

Book Appointment