Best Ankle Arthroscopy Treatment & Diagnostics in Karol Bagh, Delhi
Overview
Ankle arthroscopy is a surgical procedure for operating in and around your ankle through tiny incisions using a fiber-optic viewing camera and a tiny surgical tool. The procedure is performed to evaluate and treat various ankle conditions. Arthroscopy has a faster recovery time in comparison to open surgery. So, if you have been experiencing pain in your ankle for a long time, you should consult the best ankle arthroscopy doctor in New Delhi.
About Ankle Arthroscopy
After you are taken to the operating room and prepped for surgery, an IV line is started. The foot, leg, and ankle are exposed, cleaned, and sterilized for the surgery. Based on the kind of anesthesia chosen for you, the doctor performing ankle arthroscopy surgery will place a tube in the throat to assist you with breathing. Once you are under the effect of the anesthesia, an incision will be made for small tubes.
The small tubes or portals are placed in various areas around the ankle for the camera and instruments to be placed in. Then the surgeon performs the ankle arthroscopy surgery. After the procedure is complete, the portals and instruments are removed. Then the doctor stitches and bandages the incisions.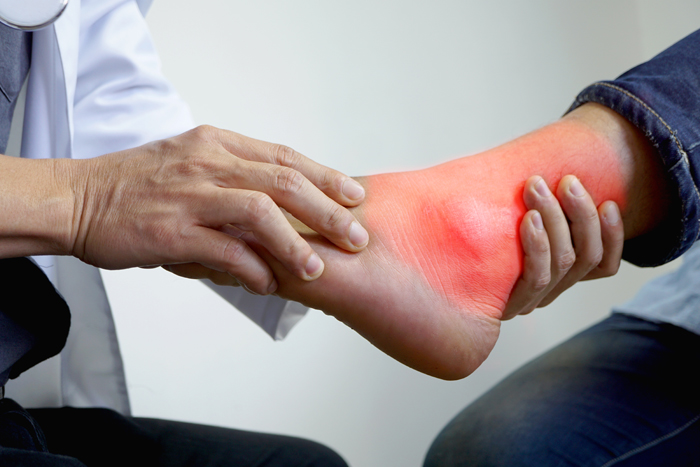 Who Qualifies for Ankle Arthroscopy?
You can qualify for an ankle arthroscopy if you
Have debris in the ankle from the torn cartilage or the blue-chip
Have ligament damage for a seriously sprained ankle
If you want less scarring and speedy recovery, you can opt for ankle arthroscopy. Many patients prefer this as it comes with fewer complications.
What are the Benefits of Ankle Arthroscopy?
Ankle arthroscopy is also known as minimally invasive surgery. It has been extremely effective for managing different ankle disorders, including unstable ankle, arthritis, osteochondral defects of the talus, ankle fracture, undiagnosed ankle pain, and infection.
The benefits of arthroscopy are plenty. These are,
Pain reduction
Smaller incisions
Minimal soft tissue trauma
Less scarring
Lower infection rate
Faster healing time
Shorter hospital stay
Earlier mobilization
So, if you are considering an ankle arthroscopy,
Request an appointment at Apollo Spectra Hospitals, Karol Bagh, New Delhi
Call 1860 500 2244 to book an appointment
Why is Ankle Arthroscopy Performed?
Ankle arthroscopy can be used as a diagnostics procedure or for treating disorders of the ankle joint. Ankle arthroscopy might be indicated in the conditions given below:
Fractures of the ankle joint
Ankle arthritis
Arthrofibrosis causes pain and joint stiffness
Ankle instabilities due to tendon and ligament injuries
Infection of the joint
Diagnosis of unexplained ankle symptoms
Loosening of bone, cartilage, and scar tissue that floats in the joint and is called loose bodies
Ankle impingement after a soft or bone tissue inflammation, restricting the motion of the ankle joint
What are the Risks or Complications of Ankle Arthroscopy?
Ankle arthroscopy by a good, experienced ankle arthroscopy doctor in Delhi is a relatively safe procedure with low complication rates. However, the risks and complications include,
With every other procedure, infection is a risk as instruments are introduced into a sterile area.
Bleeding might also occur from a cut in a blood vessel.
Anesthesia always has a certain risk factor.
Some people might have local nerve damage from this procedure that makes the overlying skin numb.
Sources
https://www.medicinenet.com/recovery_from_ankle_arthroscopy/article.htm
https://www.emedicinehealth.com/ankle_arthroscopy/article_em.htm
How long does Ankle Arthroscopy take to heal?
A majority of patients expect to be back to work within two weeks. But if you want to return to high-level sports, you will have to wait at least 4-6 weeks. However, you also need to keep in mind that the recovery times vary and depend on the patient's health, existing medical conditions, and complications after the surgery.
How to prepare for Ankle Arthroscopy Surgery?
Generally, your doctor will ask you to refrain from drinking or eating anything on the day of the surgery. Get in touch with the surgeon about the prescription medications that you might have to take. The surgeon might ask you to stop taking blood-thinning agents, such as warfarin or aspirin.
How long does swelling last after Ankle Arthroscopy?
The swelling in the ankle and foot after the operation will disappear within 3 months of the surgery. A majority of the people return to their sporting activities after several months of their operation.
Is Ankle Arthroscopy Outpatient?
Yes, it is generally performed as an outpatient surgery under general anesthesia.

Book Appointment