Best Ankle Ligament Reconstruction Treatment & Diagnostics in Karol Bagh, Delhi
Ankle ligament reconstruction is performed in cases of serious sprain and instability in the ankles. The objective behind this procedure is to prevent the ankle from getting more damaged and stabilizing it. Various scans and tests are conducted to recognize the severity. For treatment, you can visit the best ankle arthroscopy near you.
What is ankle ligament reconstruction?
Ligaments and tendons hold the ankle and the feet together. These ligaments are attached to the bones to support them. The ligaments present in the ankles include calcaneofibular ligament (CFL), anterior talofibular ligament (ATFL) and lateral collateral ligaments (LCL). Usually, injuries do not require specialized surgery, but in severe cases, the surgery is recommended. The treatment is performed as a day-case procedure. The doctor carries out an ankle arthroscopy to examine the injured area before making a bigger cut. Furthermore, an incision is made on the ankle. It allows a surgeon to find the injured tissue near the fibula bone and perform the surgery.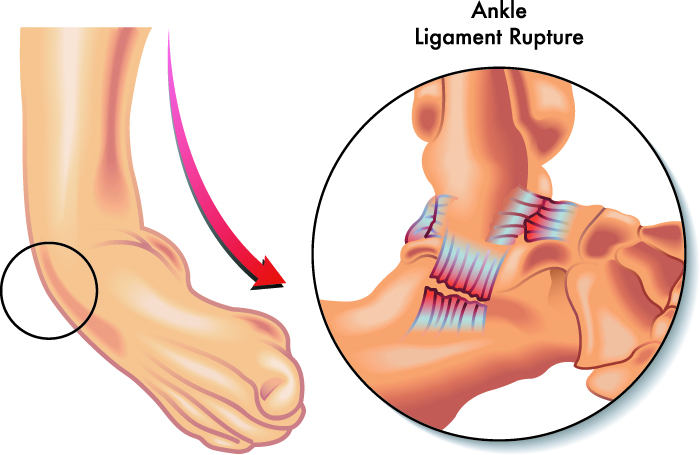 Who qualifies for an ankle ligament reconstruction?
In an ankle ligament injury, the ligaments stretch and tear beyond their normal capacity. Most of these tears do not require surgery like the lisfranc injury (sprains in the midfoot).
Reconstruction surgery requires an expert surgeon and is only done when the damage does not respond to medicines and other non-surgical procedures.
Your doctor will conduct some imaging tests and musculoskeletal ultrasound to accurately identify the damage. The damages are classified into various grades:
Grade 1 - small tears, mild weakness and pain
Grade 2 - partial tears with redness and pain
Grade 3 - a complete tear in the ligaments with pain, redness and instability
Depending on the grade, the doctor will decide on further treatment.
Why is an ankle ligament reconstruction conducted?
Ankle ligament reconstruction involves both surgical and non-surgical treatments. A doctor determines the treatment on the type and severity of a damage. In a few cases, the ligaments are reattached and tightened using an anchor back into the bone. If the major part of ligaments is destroyed or weakened due to an injury, you might need to get surgery.
Some of the common symptoms that indicate that a surgery may be needed are:
Repeated injuries and sprains
Excessive pain in the ankles and legs
Inability to walk, run, jump, etc
Locking and cracking feeling in the ankles
Ankle dislocation
Swelling near the ankles
What are the types of ankle ligament reconstruction?
Ankle ligament reconstruction surgeries are mainly of two types:
Lateral Ankle Ligament Reconstruction - it is performed in two ways, namely by Brostrom Gould technique and by tendon transfer. In a Brostrom Gould technique, the ligaments are tightened using sutures and in tendon transfer, the damaged ligaments are replaced with tendons from other parts of the body. Both types of surgeries are performed by making small cuts.
Arthroscopic Surgery - it is a minimally invasive surgery. A surgeon makes incisions to insert a camera along with surgical instruments. It is mostly used to examine the severity of a damage and what kind of surgery is required.
What are the benefits?
Decreased pain, swelling and redness
Improved ability to walk and perform daily activities
Stability in the ankles
Strengthening of the ankle joints
Effective and a long-lasting procedure
A wide range of motion and mobility
What are the complications?
Excessive bleeding after surgery
Blood clot
Nerve damages
Deep vein thrombosis
Difficulties with anesthesia like nausea, fever, etc.
Stiffness around the ankle joints
No improvement in the ankle's condition
When do you need to see a doctor?
If left unattended, an ankle injury would turn severe. A doctor will guide you about the treatment.
Request an appointment at the Apollo Spectra Hospital, Karol Bagh, New Delhi.
Call 1860 500 2244 to book an appointment with the best orthopaedic surgeon in New Delhi.
Conclusion
Ankle ligament reconstruction is meant for sprains and other injuries that are serious and have a long-term impact. These injuries require an expert surgeon for proper treatment. Visit the best ortho hospital near you for the right treatment.
When should I start with physiotherapy?
Your doctor will inform you about the physiotherapy sessions. These sessions are designed as per your requirements and recovery. In most cases, physiotherapy starts after a week or two of the surgery.
When will I be able to walk?
Your ability to move depends upon the operative procedure. During the follow-up appointments, you can discuss with your doctor about the improvement. It usually takes two weeks after the surgery. The recovery rate differs from one person to another.
What are the other ways of treating ankle sprains?
Ankle ligament surgery is meant only for extreme cases. Before moving to the surgery, you can follow these treatment options:
Pain relievers and anti-inflammatory medicines and injections
Using ice pack
Compression
Physiotherapy
These are only helpful for treating mild sprains.

Book Appointment