Physiotherapy Treatment & Diagnostics in Karol Bagh, Delhi
Physiotherapy
Sports medicine deals with injuries that commonly occur during athletic sports, exercise or any recreational activity. These injuries will involve your muscle and bone system (musculoskeletal system).
The musculoskeletal system commonly comprises your bones, cartilage, tendons, joints, ligaments and other soft tissues. Sometimes you may also have head injuries like concussions. These sports injuries are treated with a number of treatments including rest, immobilization, medication and surgery.
Along with these treatments, physiotherapy or physical therapy is also vital. Physiotherapy in sports medicine deals with the prevention and management of sports and exercise-related injuries. Physiotherapy also helps promote an active lifestyle and improve and maintain your quality of life.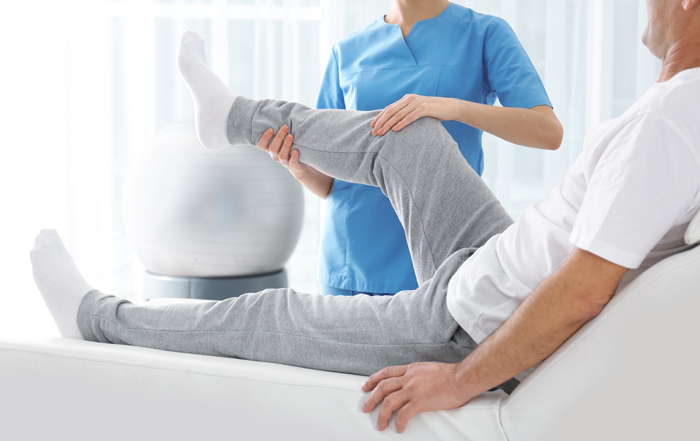 What is physiotherapy?
Physiotherapy entails exercises and fitness regimens to prevent injuries, treat injuries, rehabilitate and enhance your performance as an athlete. Physiotherapy also involves interventions to support your performance as an athlete by conducting interventions that will result in the prevention of injury.
Physiotherapy can help with the following types of injuries:
Sports injuries
Issues with your tendons
Muscle and ligament tears and strains
Neck and back pain
Work-related pain
Running or cycling injuries
Degenerative changes in the bones such as arthritis or other such conditions
Rehabilitation post fractures or surgeries
If you have any doubts, you can search for physiotherapy near me, physiotherapy center near me or
request an appointment at Apollo Spectra Hospitals, Karol Bagh, New Delhi.
Call 1860 500 2244 to book an appointment.
Who is qualified to conduct physiotherapy?
Sports and exercise physiotherapists are qualified to perform physiotherapy in sports medicine and for any activity-related injuries. They provide evidence-based advice to enable the optimum body functioning.
Why is physiotherapy conducted?
It is conducted for:
Planning of exercise regimes post injuries
Restoring your pre-injury functional abilities
Improving mobility
Preventing Injuries during physical activities
Screening processes for athletes
Ensuring ultimate athletic performance
What are the benefits?
Physiotherapy is beneficial as it assesses and diagnoses risks present for each athlete. It prevents and addresses risks associated with a sport so that you can achieve your maximum potential. It also helps in treatment post fractures or surgery and enables you to get back to your pre-injury level of functioning.
Conclusion
The important aspect of physiotherapy is to seek timely treatment to prevent complications. If not treated on time, injuries can lead to damage that may be permanent. Other complications may include chronic pain, weakness and disability. When you are on treatment, it is essential to take things slow as it can result in the above-mentioned complications, if you try to undertake too many activities too soon. A physiotherapist can help in speeding up your recovery.
Reference Links:
https://www.physio-pedia.com/The_Role_of_the_Sports_Physiotherapist
https://complete-physio.co.uk/services/physiotherapy/
https://www.wockhardthospitals.com/physiotherapy/importance-of-physiotherapy-in-sport-injury/
What is the difference between a physiotherapist and a sports physiotherapist?
A physiotherapist helps in preventing and treating injuries, disabilities or illnesses. A sports physiotherapist has completed further education and is more well-versed with diagnosing, treating and preventing sports-related injuries.
How should I dress for my appointment with a sports physiotherapist?
It is better to wear loose, non-restrictive clothing to ensure assessment and diagnosis by your sports physiotherapist. For example, if you have a back problem, wearing a loose-fitting shirt will help.
How many sessions will I need?
The number of visits will depend on your diagnosis, severity of the injury, past history, and many more factors. Your physiotherapist will evaluate your progress periodically and will be the best judge to provide you with the necessary information regarding frequency of visits.

Book Appointment