Rheumatoid Arthritis Treatment & Diagnostics in Karol Bagh, Delhi
Rheumatoid Arthritis
Rheumatoid arthritis is a chronic inflammatory disorder that impacts more than just the joints. In some cases, the condition can even damage different body systems, including eyes, skin, heart, lungs and blood vessels.
Rheumatoid arthritis is an autoimmune disorder that occurs when the immune system attacks your body's tissue mistakenly. It affects the lining of the joints leading to painful swelling that results in joint deformity and bone erosion.
The inflammation related to rheumatoid arthritis can damage other parts of the body. Even though medications can improve the condition, severe rheumatoid arthritis can still lead to physical disabilities.
So, before your rheumatoid arthritis gets worse, get in touch with the best orthopedic hospitals in Delhi for the appropriate treatment.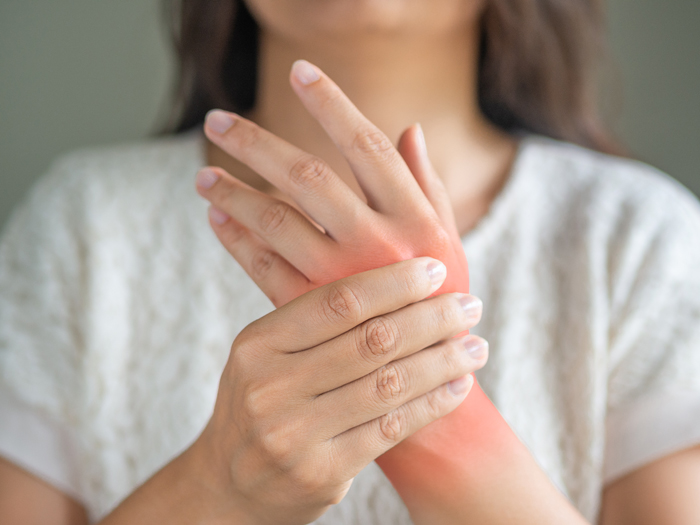 What are the Symptoms of Rheumatoid Arthritis?
The symptoms of rheumatoid arthritis include:
Swollen and tender joints
Fever, fatigue and loss of appetite
Joint stiffness that is generally worse in the morning or after inactivity
Early signs of rheumatoid arthritis affect smaller joints first, especially the joints attaching the fingers to the hands and toes of the feet.
With the progress of the disease, the symptoms often spread to the knees, wrist, elbows, ankles, shoulders and hips. In the majority of the cases, the symptoms start showing in the same joints on both sides.
At times, people with rheumatoid arthritis experience signs and symptoms that don't involve the joints. The body parts that might be affected are:
Eyes
Skin
Heart
Lungs
Salivary glands
Bone marrow
Nerve tissue
The symptoms and signs of rheumatoid arthritis might vary from person to person. These can also come and go. Get in touch with an orthopedic specialist in Karol Bagh.
What are the Causes of Rheumatoid Arthritis?
This is an autoimmune disease. Usually, the immune system helps in protecting the body from diseases and infections. But the cause behind it is unknown.
Some people have factors that make them more likely to develop the disease. A common theory is that a virus or bacteria trigger rheumatoid arthritis in people having this genetic feature.
When Do You Need to See a Doctor?
If you have persistent swelling and discomfort in the joints,
request an appointment at Apollo Spectra Hospitals, Karol Bagh, New Delhi.
Call 1860 500 2244 to book an appointment.
What are the Risk Factors for Rheumatoid Arthritis?
The factors that might increase the risk of rheumatoid arthritis are:
Sex: Women are more likely to develop this disorder.
Family History: In case a member of the family has rheumatoid arthritis, you might have an increased risk of developing the disease.
Age: Rheumatoid arthritis might occur at any age. However, it commonly begins in middle age.
Excess Weight: Overweight people might be at a risk of developing rheumatoid arthritis.
What are the Treatment Options for Rheumatoid Arthritis?
The disorder doesn't have any cure. However, some treatments might help in managing it. The treatments for rheumatoid arthritis that an orthopedic doctor in Karol Bagh deploys can manage and control the pain and inflammatory response. A decrease in inflammation can further lead to organ and joint damage.
The treatments include:
Dietary changes
Medications
Home remedies
Specific exercises
Your doctor will work with you to decide on the best treatment plan for you. For some people, the treatment helps them live an active life and truncate the risk of complications.
Conclusions
Rheumatoid arthritis is a chronic and painful condition that leads to joint damage. It makes it difficult for people to carry out their daily activities. So, if you experience non-traumatic swelling and pain in two or more joints, you should see an orthopedic doctor near you.
Sources
https://www.medicalnewstoday.com/articles/323361
https://www.cdc.gov/arthritis/basics/rheumatoid-arthritis.html
Is Rheumatoid Arthritis Hereditary?
It is not considered to be hereditary, but it does seem to run in families. This might be due to genetic causes, environmental causes or a combination of both.
What are the Worst Foods to Eat if You Have Rheumatoid Arthritis?
Gluten, trans fat, refined carbs, processed food, fried foods, onions, garlic, beans, nuts and citrus fruits are the worst foods to have if you have this disorder.
How Can You Boost Immunity to Fight Rheumatoid Arthritis?
Have dark green, leafy vegetables, such as spinach, kale and Swiss chard. These are immune-boosting food items.

Book Appointment