Gynecomastia Treatment in Karol Bagh, Delhi
Gynecomastia is a condition of enlarged male breasts due to overgrown breast tissue. While it typically develops during teenage years, sometimes infants or even adults may experience gynecomastia. Seek advice at a hospital for gynecomastia surgery in Delhi.
Gynecomastia sometimes occurs in one of the breasts or may affect both. The condition can be embarrassing and needs attention and treatment. You must see the best cosmetologist in Karol Bagh for treatment.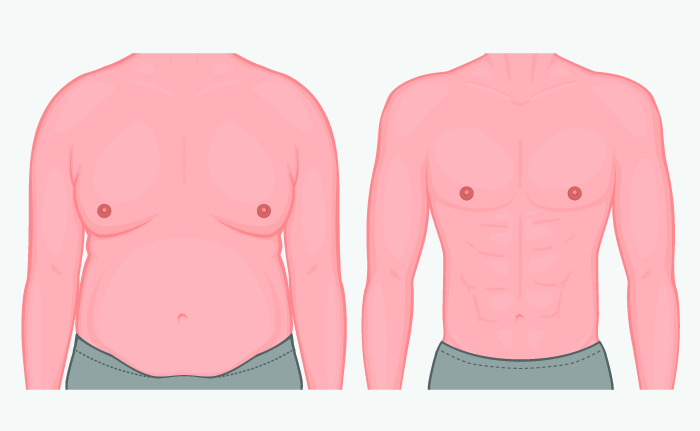 What are the symptoms of gynecomastia?
The symptoms of gynecomastia may appear at any age. The symptoms are common and can be mistaken as some other medical condition. Hence, it is necessary to consult a doctor for an accurate diagnosis. The basic symptoms of gynecomastia are as follows:
Enlargement of one or both breasts
Lump growing beneath the nipple
Fatty tissue growth in the breast
Soreness of the breasts
Uneven appearance of the breasts
What are the causes of gynecomastia?
The primary cause of gynecomastia is hormonal imbalance. Doctors also believe that certain medical conditions may be the reason for gynecomastia. These are as follows:
Obesity
Tumors in the testicles and adrenal gland
Lack of nutrition
Liver disease
Hyperthyroidism
Hyperandrogenism (excess male hormones)
Hypogonadism (less testosterone)
Kidney failure
Certain medicines such as antidepressants, antibiotics, chemotherapy, medication for prostate cancer and illegal drugs such as heroin and marijuana can also cause gynecomastia.
When should I see a doctor?
In the following instances, you should see a doctor:
If you notice your newborn baby boy has enlarged breasts
If a teenager has enlarged breasts during puberty that stay enlarged for more than two years
If you have crossed 40 and have enlarged breasts
Disturbances in estrogen and testosterone levels cause gynecomastia. It is necessary to consult a cosmetic surgeon, so you can search online for gynecomastia surgery near me.
You can request an appointment at Apollo Spectra Hospitals, Karol Bagh, New Delhi.
Call 1860 500 2244 to book an appointment.
What are possible risk factors?
Adolescence
Hormonal imbalance
Intake of androgens or anabolic steroids in athletes
Prolonged use of antiulcer drugs such as omeprazole
Being on dialysis due to kidney failure
Liver cirrhosis
Starvation
Being on hormone treatment
Adrenocortical tumors that increase feminine characteristics
Diabetes
Stressful events in life
Are there any complications?
Gynecomastia has fewer physical complications. However, you may develop the following complications:
Psychological stress
Pain
Ulcers on the breast
Can I prevent gynecomastia?
You may control a few factors to prevent the condition. These are as follows:
Avoid taking illegal drugs such as heroin, marijuana
Restrict alcohol intake
If your gynecomastia is due to medicines, talk to your doctor for alternatives
What are the treatment options for gynecomastia?
Typically, symptoms of gynecomastia go away on their own. If there is an underlying medical condition, you may get treatment for the same. If a particular medicine is causing it, then you may consult your doctor for replacements. The best cosmetologist in Delhi will discuss the following treatment options:
Medicines

Androgen therapy:Doctors may advise testosterone replacement.
Anti-estrogen therapy: Anti-estrogen agents have a good effect on painful gynecomastia.
Aromatase inhibitor: Anastrozole lowers the estrogen levels in men to treat the condition.

Psychological counseling: Counselling by experts can help relieve the symptoms of anxiety and depression due to breast enlargement.
Surgery: The cosmetic surgeons at the center for gynecomastia surgery will recommend surgery if you have severe discomfort and stress due to the condition. The following interventions are available:

Resection of the glandular tissue with or without liposuction
An extensive surgery can treat prolonged gynecomastia with saggy breasts to remove the excess tissue.
Liposuction to remove excess fat
Consult the best cosmetology doctor in Delhi.
Request an appointment at Apollo Spectra Hospitals, Karol Bagh, New Delhi.
Call 1860 500 2244 to book an appointment.
Conclusion:
Gynecomastia is an embarrassing problem, but treatable. If it is accompanied by pain and discomfort, look for gynecomastia surgery in Karol Bagh.
Sources referred:
Johns Hopkins Medicine. Gynecomastia [Internet]. Available at: https://www.hopkinsmedicine.org/health/conditions-and-diseases/gynecomastia. Accessed on Jul 18, 2021.
Cleveland Clinic. Enlarged male breast tissue- Gynecomastia [Internet]. Available at: https://my.clevelandclinic.org/health/diseases/16227-enlarged-male-breast-tissue-gynecomastia. Accessed on Jul 18, 2021.
Cuhaci, N., Polat, S. B., Evranos, B., Ersoy, R., & Cakir, B. (2014). Gynecomastia: Clinical evaluation and management. Indian journal of endocrinology and metabolism, 18(2), 150–158. https://doi.org/10.4103/2230-8210.129104
Is gynecomastia cancerous?
No, the growth of breasts in gynecomastia is due to hormone imbalance and is non-cancerous.
When can I get operated on for gynecomastia?
Surgeons suggest you wait till the age of 18 to get the surgery done.
Does gynecomastia surgery leave behind scars?
Scars may appear on the breast. But they fade with time.

Book Appointment