Carpal Tunnel Syndrome Surgery in Karol Bagh, Delhi
Orthopedics is a branch of medical science that deals with the diagnosis and treatment of injuries and diseases of the musculoskeletal system. The bones, ligaments, joints, tendons, muscles and nerves constitute the musculoskeletal system. Orthopedic doctors near you diagnose and treat disorders of the bones, joints and other musculoskeletal organs.
Orthopedists can treat extremely painful disorders such as the Carpal Tunnel Syndrome.
What is Carpal Tunnel Release?
The carpal tunnel is made of wrist bones and a transverse carpal ligament inside the wrist. The median nerve is an important nerve that passes through the carpal tunnel, which allows us to control our fingers, thumbs and wrists. Carpal tunnel syndrome is a form of overuse injury caused by repetitive motion of the wrist or hand, and it is a hereditary disease. When a person suffers from this syndrome, the tunnel presses on the median nerve, causing pain, numbness, swelling or even loss of function if it is left untreated.
Carpal Tunnel Release is a surgical procedure performed by orthopedists near you to treat Carpal Tunnel Syndrome. An orthopedist cuts through the ligament that has pressed on to the median nerve, which in turn creates more space for the nerve and tendons. The surgery improves function and movement and reduces pain and swelling.
Carpal Tunnel Release may be performed as open surgery or endoscopic surgery, depending on the severity of symptoms and other influencing factors.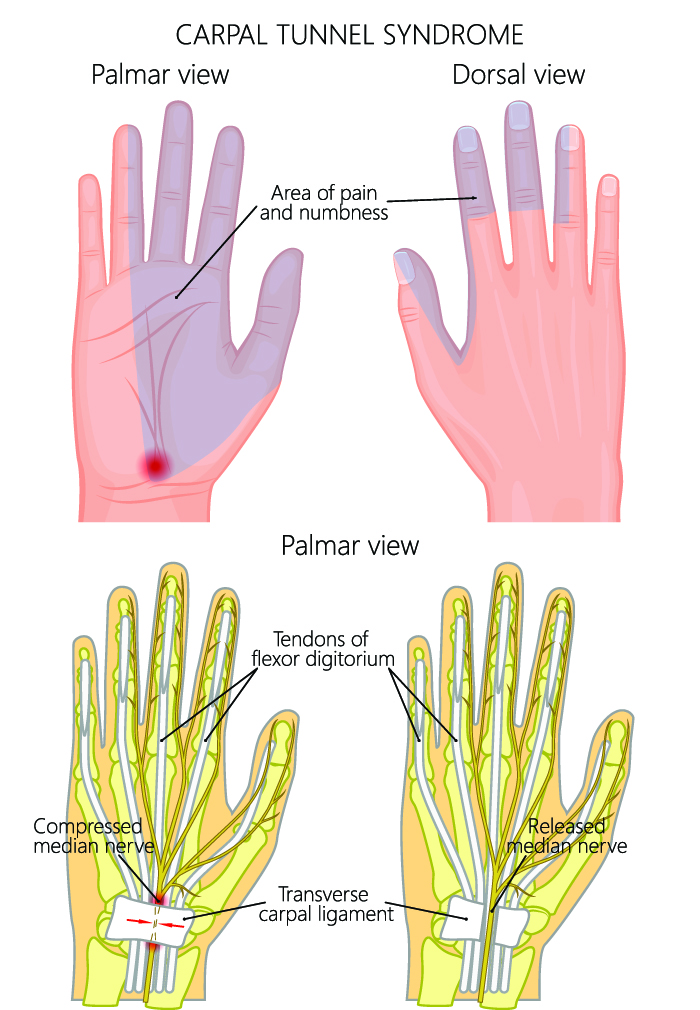 Who qualifies for a Carpal Tunnel Release?
If a patient is suffering from Carpal Tunnel Syndrome, an orthopedist in Delhi will prescribe medications and other forms of non-surgical treatment such as physiotherapy. Carpal Tunnel Release is considered only if:
The nerve test results display median nerve damage or risk of nerve damage
Medications and non-surgical treatment are unable to eliminate the symptoms
Tumors or other growth is observed
The symptoms are of severe nature, and the pain/loss of function is unbearable
Braces, corticosteroids or lifestyle changes cannot reduce the symptoms
The symptoms are chronic or last for more than 5-6 months
Gripping, grasping, pinching or other manual tasks seem difficult
Electromyography of the median nerve displays severe Carpal Tunnel Syndrome
Muscles of the hand/wrist shrink and weaken
If you observe any of these symptoms, you might require a Carpal Tunnel Release. To consult an experienced orthopedist,
request an appointment at Apollo Spectra Hospitals, Karol Bagh, New Delhi.
Call 1860 500 2244 to book an appointment.
Why is Carpal Tunnel Release performed?
The procedure is performed as a surgical means for the treatment of Carpal Tunnel Syndrome. The base of the palm that causes the median nerve to pinch is cut open through Carpal Tunnel Release. The surgery involves making incisions on the transverse carpal ligament, which relieves pressure and creates space for the median nerve.
The surgery reduces the compressive forces and pressure on the nerve, by enlarging the actual size of the carpal tunnel. The inflamed median nerve is released when the ligament is cut and the skin is stitched back. Space where the ligament is cut off heals with the scar tissue, creating an increased space for the median nerve to decompress.
What are the benefits of Carpal Tunnel Release?
Some of the benefits of Carpal Tunnel Release are:
Most people who undergo a Carpal Tunnel Release experience fewer or no symptoms of Carpal Tunnel Syndrome after the surgery.
The symptoms rarely recur after Carpal Tunnel Release.
If the syndrome is caused by injury or infection, Carpal Tunnel Release is the only effective mode of treatment.
With the surgery, muscle strength that was lost in the inflamed area returns with physiotherapy and proper rehabilitation.
NSAIDs, local anesthesia and other medications are provided to calm patients during the surgery.
In most Carpal Tunnel Release procedures, patients can be discharged on the same day and rarely require hospitalization.
Carpal Tunnel Release also prevents lasting nerve damage.
What are the risks associated with Carpal Tunnel Release?
Some of the risks are:
Risks related to anesthesia
Bleeding
Scarring
Nerve injury
Injury to the veins/arteries
Longer recovery period
Swelling/numbness
The risks and complications depend on the expertise of the surgeon/orthopedist. Patients who undergo Carpal Tunnel Release with experienced doctors and proficient surgeons rarely experience any of these complications.
Request an appointment with experienced orthopedists at the Apollo Spectra Hospitals, Karol Bagh, New Delhi.
Call 1860 500 2244 to book an appointment.
Conclusion
Even though carpal tunnel syndrome is not a life-threatening condition, the pain and inability to move our wrists can immensely affect the quality of life. It can be difficult and painful, and negatively impact a patient's occupational and domestic life. Thus, Carpal Tunnel Release serves as an important, necessary and effective surgical treatment against Carpal Tunnel Syndrome.
References
How do you prepare for carpal tunnel surgery?
Quit smoking, as it delays healing. Inform your doctor about all the medications that you take, especially ibuprofen, naproxen and aspirin. Prepare blood tests and ECG. Doctors may ask you to avoid eating/drinking a few hours before the surgery.
For a Carpal Tunnel Release, how can the pain, scarring and recovery period be reduced?
By performing an endoscopic Carpal Tunnel Release, smaller incisions result in minimal scarring, less post-op pain and a shorter recovery period.
What can you expect after a Carpal Tunnel Release?
The wrist will be wrapped in bandages. Stitches will be removed after two weeks' duration. Heavy lifting or strenuous activities must be avoided for a few months. Other instructions and results may depend on individual patients.

Book Appointment