Bone Deformity Correction Surgery in Karol Bagh, Delhi
Deformity correction indicates the process of adjusting or improving musculoskeletal deformities at the best rehabilitation center in Delhi — most typically, it involves a limb deformity or a foot deformity.
What is correction of deformities?
Deformity correction is a procedure to unbend a bent or twisted bone in a way that is not usual. After the bone is untangled, the arm, leg or foot gets back normal alignment and usually functions properly. Arthroscopy surgeons in Delhi can correct deformities in two different ways, such as:
-Everything at once during a surgical procedure (termed an acute correction)
-Gradually over some weeks or months (termed a gradual correction)
The deformities implied by deformity correction usually stem from congenital and developmental issues, which are frequently present at birth or caused by various physical traumas such as any type of falls, sports injuries and car accidents and conditions such as diabetes and obesity.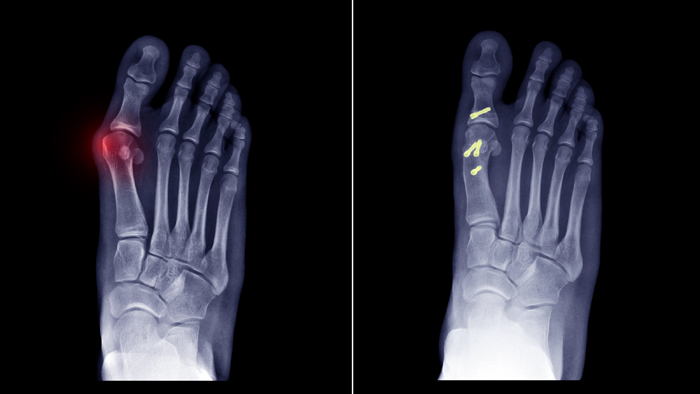 Who qualifies for the procedure?
If a patient has had lower limb deformity or spine deformity since birth or if he/she has developed the condition as a result of an accident or injury, consult a partial knee replacement surgeon in Delhi.
Request an appointment at Apollo Hospitals, Karol Bagh, New Delhi.
Call 1860 500 2244 to book an appointment.
Why is the procedure conducted?
Deformity correction is a vital procedure carried out by the best orthopedic surgeon in Delhi. It can untangle and heal a deformed limb or spine. Spinal deformities are caused by myriad conditions, including cracks, scoliosis, kyphosis, and so on. Hence, you should consult an orthopedic doctor in New Delhi.
What are the types of deformity correction?
Lumbar deformity correction pertains to surgery to modify deformed spine patterns due to several conditions. The major correction and stabilization procedures are:
Osteotomy (sometimes named a posterior column osteotomy or PCO) discards some bone from the back of the vertebral arch. It ensures nearly 10-20 degrees of correction at every level and can be conducted at different levels.
Pedicle subtraction osteotomy eliminates the vertebral arch and the pedicles that bind the arch to the vertebral body. At the same time, a part of the vertebral body is also discarded. This procedure ensures almost 30 degrees of correction.
Vertebral column resection (VCR) eliminates the entire vertebra. The vertebra is rebuilt with bone grafts and implants named enclosures.
Spinopelvic fixation is a procedure during which screws, rods or other hardware are precisely assembled at the base of the spine and the encircling bones of the pelvis. Total hip replacement surgery is a procedure that reduces the forces of bending and spin at the intersection between the lumbar spine and the sacrum.
According to spine surgeons in Delhi, equalizing the spine is a very difficult process that must take into account the mechanics of the spine, the spinal cord and nerve roots. Attaining the best outcome needs a spine surgeon near you with excellent technical skills, a thorough familiarity with orthopedic and neurological considerations, and experience tailoring treatment for individual cases.
What are the complications?
Illness, blood clots in a vein (also named intense vein thrombosis or DVT), excessive bleeding and injury to blood vessels or nerves are some of the most common complications.
Can deformity be corrected?
Lower leg deformities can be corrected by osteotomy. This involves making an incision on the bone and then realigning bones and joints, so that they are correctly placed.
What could impede a bone deformity from being corrected?
If patients do not follow any physiotherapy treatment from the best physiotherapist in Delhi or carry out their home exercises, their muscle strength and span of motion could be affected.
Can children suffer from deformities?
Deformities in children are mostly caused by hereditary abnormalities, the position of the fetus in the womb or any other nutritional deficiencies.

Book Appointment