Management of Open Fractures Treatment & Diagnostics in Karol Bagh, Delhi
Management of Open Fractures
Overview of Open Fracture Management
An open fracture is a complicated injury involving surrounding soft tissue and bone. Its management goals are the union of the fracture, prevention of infection, and restoration of function. However, to achieve these goals, you need to have a careful approach depending on a thorough assessment of the patient's injury.
Request an appointment at Apollo Spectra Hospitals, Karol Bagh, New Delhi
Call 1860 500 2244 to book an appointment
About Open Fracture Management
Usually, open fractures result from high-energy trauma characterized by variable degrees of skeletal injury and soft tissue damage. Both can impair local tissue vascularity. As open fractures generally involve contact with the outside environment, your wound can get contaminated. This leads to an increased risk of developing infections and also makes healing difficult.
The principles governing open fracture management in an orthopedic hospital in New Delhi include assessing the injury and the patient, managing the wound, preventing the infection, and stabilizing the fracture. Open fracture management can be quite challenging, and several surgical procedures are required for soft-tissue coverage.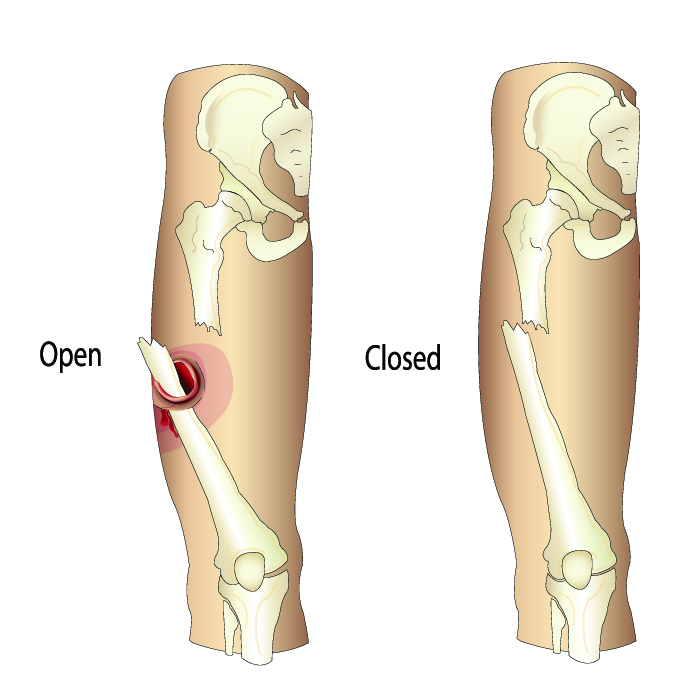 Who qualifies for Open Fracture Management?
Anyone who has an open fracture can opt for open fracture management. To experience the best open fracture management, consult the best orthopedic hospitals in Karol Bagh.
Why is Management of Open Fracture Done?
An open fracture needs different treatment than a closed fracture that doesn't have an open wound. This is because when the skin is broken, bacteria from dirt and various other contaminants can enter your wound, leading to infection.
Thus, early management for open fracture emphasizes preventing infection in the area of the infection. The tissue wound and bone have to be cleaned out completely through the surgical procedure. The fractured bone also has to be sterilized as it will enable the wound to heal.
What are the Benefits of Management of Open Fracture?
Open fracture management that is early stabilization of your wound offers several benefits to the injured patients. Let's take a quick look.
It can protect soft tissues around the injured area by preventing further damage from the fracture.
The procedure can restore alignment, length, and rotation
Early management and fixations allow better access to soft tissue that surrounds the injury and facilitates the early return of the patient to normal function.
What are the Risks and Complications Associated with Open Fracture Management?
Infection is the most common complication of open fracture. It happens because bacteria enter the wound during the time of the injury.
Infection might develop early on when you are healing or much later after the fracture when the wound has healed. Bone infection might become chronic and lead to more surgeries.
When your injured leg or arms swells and pressure builds up within the muscle, you might develop a condition known as compartment syndrome. If this happens, you will need immediate surgery at one of the best orthopedic hospitals in Delhi. When left untreated, the condition might lead to permanent loss of function or tissue damage.
Request an appointment at Apollo Spectra Hospitals, Karol Bagh, New Delhi
Call 1860 500 2244 to book an appointment
Sources
https://orthoinfo.aaos.org/en/diseases--conditions/open-fractures/
https://journals.lww.com/jaaos/fulltext/2003/05000/open_fractures__evaluation_and_management.8.aspx
How to Manage an Open Fracture?
Treatment is the best way to manage an open fracture. Almost all open fractures tend to be treated in the operating room. So, it is crucial to go to surgery as soon as you can. This will help in cleaning up the open wound that will prevent infection.
How Long Does It Take an Open Fracture to Heal?
A majority of the fractures heal within 6 to 8 weeks. However, it depends on the person and the bone. Wrist fractures and hands often heal within 4 to 6 weeks.
How to Stop an Open Fracture from Bleeding?
If the open fracture is bleeding, you should cover the wound using a clean non-fluffy cloth or sterile dressing. Now, apply pressure on the wound, but be careful not to pressure the protruding bone to control the bleeding. After that, secure the dressing using a bandage.
How to Rule Out an Open Fracture?
The wound is diagnosed by assessing the nature and size of the external wounds. Radiographs of the bones are obtained to rule out an open fracture.

Book Appointment