Medical admission Treatment & Diagnostics in Karol Bagh, Delhi
Medical admission
Introduction
With the current situation amidst the pandemic, most of you have likely been to the hospital. If not, you may face a time when medical admission will become mandatory because of several reasons. That is why you must be prepared beforehand to avoid confusion and understand the operation. It is normal to be a little apprehensive about medical admissions. We are here to guide you through it so you can get rid of the hesitancy and be well informed.
About Medical Admission
Medical admission refers to a process that allows a patient to get admission to a hospital for diagnosis, treatment, test, or surgical procedure. Generally, medical admissions are followed by checking your vital signs such as blood pressure, temperature, pulse rate, and more. There are two types of hospital admissions - emergency and elective. Similarly, you can get medical admission as three kinds of patient - inpatient, day patient, or outpatient.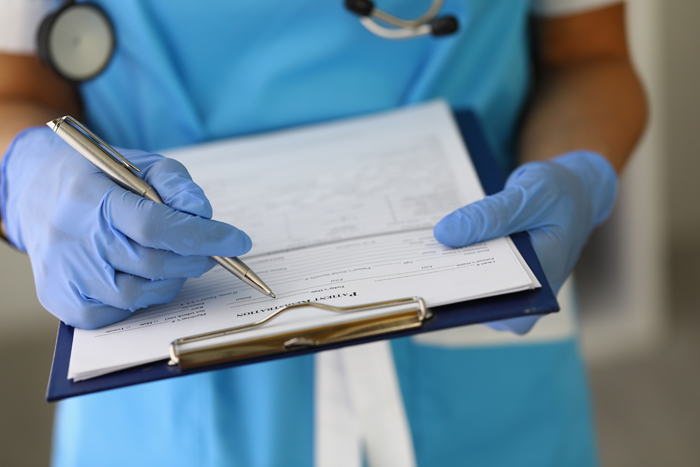 Who Qualifies for Medical Admission?
People who qualify for medical admission are divided into three categories. The division is based on the cause of illness and its severity. You can either be an inpatient, day patient, or outpatient.
Inpatients are required to spend the night at the hospital for their treatment or surgery. On the other hand, day patients can get treatment by visiting the hospital for minor surgeries, chemotherapy, dialysis, etc. Finally, outpatients visit the hospital via an appointment and do not stay the night.
Request an appointment at Apollo Spectra Hospitals, Karol Bagh, New Delhi.
Call 1860 500 2244 to book an appointment.
Why is Medical Admission Done?
Many circumstances lead to medical admission. Some of them are:
Accident
Stroke
High fever
Heart attack
Chest pain
Breathing difficulties
Severe allergic reaction
Sprain, fracture, or ligament tear
Loss of neurological function (movement, comprehension, vision, speech)
Severe pain
Unconsciousness
Heavy bleeding
What are the Types of Medical Admission?
As stated above, your medical admissions depend on your illness or condition and its severity. There are two types of medical admission, they are:
Emergency Admission
In this type of medical admission, you don't plan anything, it happens due to urgency. It usually happens due to trauma, injury, or severe illness. The Emergency Department handles these types of admissions. Depending on your condition, you may get admission to a certain floor, specialized unit, or observation unit.
Elective Admission
This admission is for people who have a known medical condition that needs a diagnosis, treatment, or surgery. The time is set beforehand for the convenience of the patient and doctor. Usually, hospital visits before the elective admission are done for tests like X-rays, ECGs, and more.
Benefits of Medical Admission
Medical admission offers us many benefits that are also useful in the long run. They include:
Reduced medical complications
Enhanced productivity
Expert medical advice
Better functional independence
Lower long-term costs
Access to constant medical care
Peer support from patients with similar illnesses or injuries
Risks or Complications of Medical Admission
While medical admission benefits you greatly, it has also come with a fair share of risks or complications to look out for:
Diagnostic errors
Medication errors
Undernutrition
Hospital-Acquired infections
Incontinence
Sepsis
Hospital-Acquired Pneumonia
What Should I Ask Before Getting Admitted to the Hospital?
Being aware and confident is extremely important to ensure things will go right. You must have all the information beforehand before you decide to get medical admission. Make sure you have answers to these questions:
Why do I need to be admitted?
How long will I be admitted?
What are my treatment options?
What are the pros and cons of the treatment plan?
What will happen if I don't want the treatment?
What Documents Should I Carry to the Hospital?
The hospital will require some important documents before your medical admission. They are:
Identity documents like Aadhar card, driver's license, etc.
List of your medical conditions such as hypertension, diabetes, etc.
List of allergies
List of all surgeries to date
List of all current medications
Name and contact details of primary care physician
Request an appointment at Apollo Spectra Hospitals, Karol Bagh, New Delhi.
Call 1860 500 2244 to book an appointment.
Conclusion
Medical admission is necessary mainly in cases that involve severe trauma or diseases. After your medical condition gets better, you will be discharged but regular follow-ups will be needed. In other cases when things are not critical, you can visit the doctor at the clinic and get treated at your home to save time and money.
References:
https://www.emedicinehealth.com/hospital_admissions/article_em.htm
https://www.msdmanuals.com/en-in/home/special-subjects/hospital-care/being-admitted-to-the-hospital
What are the most common medical emergencies?
The most common medical emergencies include bleeding, heart attack, breathing problems, stroke, seizures, and severe pain.
When should I visit an emergency room?
You must call 102 or visit an ER immediately if you feel you are very sick. In simpler terms, if you experience severe pain or symptoms, any illness affecting the entire body, or difficulty breathing, go to a hospital.
What are hospital-acquired infections?
They are infections that one develops due to a hospital environment after getting medical admission. They are usually not present during the time of admission but incubate over time as they are acquired from hospitalization.

Book Appointment