Tonsillectomy Surgery in Karol Bagh, Delhi
Tonsils are situated at the back of our throat and are a part of our body's immune system. They contain a lot of white blood cells which are necessary for battling against infectious diseases and foreign objects. Due to their position in our mouth, they can prevent harmful germs from entering our body through the digestive route. Tonsillectomy refers to the surgical procedure that involves removing infected/inflamed tonsils.
To seek treatment, consult an ENT doctor near you or visit an ENT hospital near you.
What is tonsillectomy?
Tonsillectomy is a surgery that removes infected tonsils (tonsillitis). The surgery is aimed at preventing recurrent infections and inflammation in one or both of the tonsils. When a patient suffers from enlarged tonsils or other rare tonsil diseases, they need to be surgically removed.
Tonsillectomy is prescribed to children suffering from breathing difficulties caused by enlarged/infected tonsils. They are also recommended by ENT specialists near you for treating snoring or obstructive sleep apnea. Patients who suffer from recurring infections of the tonsils and sleep apnea require tonsillectomy as a surgical form of treatment.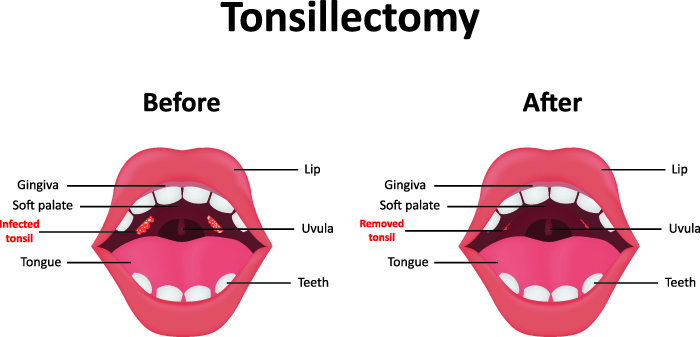 Who qualifies for tonsillectomy?
You qualify for a tonsillectomy if you suffer from any of the following symptoms:
Infected tonsils (tonsillitis) and their acute, chronic or recurring forms
Inflamed tonsils
Bleeding tonsils
Difficulty breathing
Tonsillar abscess
Enlarged tonsils
Frequent snoring
Obstructive sleep apnea (OSA)
Rare tonsil diseases
Malignant cancerous tissues
Bad breath (halitosis)
Dehydration
Fever
If you experience any of these symptoms, you may require a tonsillectomy. If you have experienced episodes of recurring bacterial infection of the tonsils, you should consult an ENT specialist near you.
Request an appointment at Apollo Spectra Hospitals, Karol Bagh, New Delhi.
Call 1860 500 2244 to book an appointment.
Why is tonsillectomy conducted?
Otorhinolaryngologists or ENT specialists perform tonsillectomy surgery for one of the following reasons:
The patient may suffer from frequent or recurring tonsillitis infections
The patient may suffer from enlarged tonsils
The patient may suffer from breathing difficulty/problems
The patient may experience difficulty breathing during sleep (Sleep Apnea)
The patient may suffer from snoring or OSA
The patient experiences any symptoms of rare tonsillar diseases
What are the benefits of tonsillectomy?
Some of the benefits of undergoing tonsillectomy are:
Complete treatment against recurring tonsillitis (infections)
Better quality of life
Better sleep quality and easier breathing
Less medication required
Elimination of obstructive sleep apnea
Treatment against tonsillar abscesses (quinsy)
Treatment for malignant growth on tonsils like cancer, tumor or cysts
Request an appointment at Apollo Spectra Hospitals, Karol Bagh, New Delhi.
Call 1860 500 2244 to book an appointment.
What are the risks?
Anesthesia-related issues such as reactions
Bleeding
Swelling
Fever
Dehydration
Difficulty breathing
Pain
Damage to teeth, jaw
Infection
Conclusion
The benefits associated with tonsillectomy surgery far outweigh the risks, making it an important and useful surgery. ENT specialists rely heavily on tonsillectomy as an absolute treatment against many tonsil-related disorders. With an improved quality of life and better sleep and breathing, patients can benefit from having tonsillectomy surgery.
References:
Tonsillectomy: Purpose, Procedure, and Recovery (healthline.com)
Tonsillectomy: Treatment, Risks, Recovery, Outlook (clevelandclinic.org)
What should I do if my child is suffering from repeated tonsil infections?
The wait-and-see approach for your child's recurring tonsil infections may be a bad choice. Consultation with an ENT doctor may point towards a tonsillectomy, from which the child can benefit a lot. Having tonsillectomy surgery is the best option for treating recurrent tonsil infections.
What is the recovery period after tonsillectomy surgery?
After the surgery, the patient will be discharged from the hospital on the same day. For the next 1-2 days, the patient will experience pain that declines over the next 1-2 weeks. After 2 weeks, the pain will be negligible.
Will my voice change after a tonsillectomy?
Minor changes in voice are common after tonsillectomy surgery. These changes will last for 1-3 months, and your voice will slowly come back to normal.

Book Appointment