Knee Arthroscopy Treatment & Diagnostics in Karol Bagh, Delhi
Knee Arthroscopy
If you suffer from inflammation, injury or damage to the joints, you must visit an orthopedic specialist near you. Arthroscopy is a surgery performed to diagnose and treat problems inside the joints with the help of an arthroscope. Knee arthroscopy is a minimally invasive surgical procedure for diagnosing and treating several knee problems.
What is knee arthroscopy?
The knee is the largest joint in the body made of different bones like the lower end of the femur, upper end of the tibia and patella. The knee joint also comprises articular cartilage, meniscus, synovium and ligament. Knee arthroscopy cures inflammation due to overuse of the muscles and injuries to muscles, tendons, ligaments or cartilage around the knee joint. You must consult an orthopedic specialist in Delhi about the treatments, benefits and complications regarding knee arthroscopy.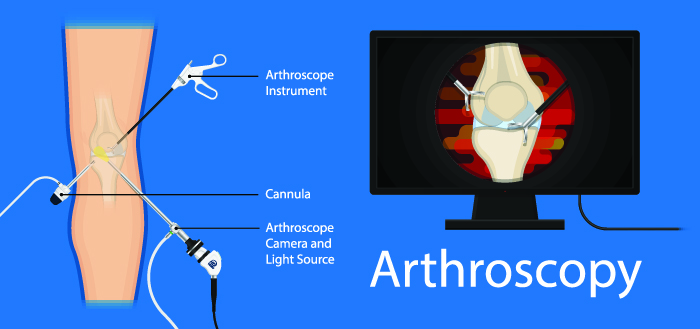 Who qualifies for knee arthroscopy?
Quit smoking, drinking and taking blood-thinning medicines before the surgery. For any of the following conditions, you can undergo knee arthroscopy:
Continuous joint pain
Stiffness in joints
Damaged cartilage
Building up of fluid
Fragmentation of bone or cartilage
Why is knee arthroscopy conducted?
Knee arthroscopy diagnoses and treats injuries to the cartilage, tendons, ligaments and bones in your knee joint. It gives relief from various conditions such as:
Displaced patella
Torn and loose cartilage in the joint
Knee fracture
Swollen synovium
Removal of Baker's cyst
Meniscus tears (torn cartilage between the bones in the knee)
Torn cruciate ligaments
When do you need to see a doctor?
If you are constantly suffering from pain in the knee joint due to any injury or other conditions, you must consult an orthopedic specialist near you.
Request an appointment at Apollo Spectra Hospitals, Karol Bagh, New Delhi.
Call 1860 500 2244 to book an appointment.
How should you prepare for knee arthroscopy?
Before knee arthroscopy, avoid taking medications and dietary supplements. Do not eat anything after midnight before the surgery. You must wear loose and comfortable clothing while visiting the hospital. Before knee arthroscopy, an orthopedic surgeon will check your vital signs.
How is knee arthroscopy conducted?
Local or general anesthesia will be administered. The orthopedic surgeon will make a few small incisions on your knee (called portals). Through these portals, arthroscopic cameras and instruments can enter the knee joint. Through the arthroscope, sterile fluid flows in the joints for a clearer view. With the help of surgical tools and instruments, the surgeon cuts, grasps, grinds and provides suction to repair the joint. These also help in the removal of all the damaged cartilage associated with the knee joint. After the surgery, the portals can be closed with the help of stitches and sutures.
After knee arthroscopy, you must wear a brace and walk using crutches. The follow-up procedure includes pain-relieving medicines, proper diet and exerting less weight on the joint. You must R.I.C.E. or rest, ice, compress and elevate joints to reduce pain and swelling after the surgery.
What are the risks?
Infection inside joint
Blood clotting in the leg
Bleeding inside knee joint
Stiffness in the knee
Accumulation of blood in the knee
Allergic reaction to anesthesia
Conclusion
Although knee arthroscopy is a minimally invasive surgical procedure, you must take care before and after the surgery. It helps examine knee injuries and inflammation and offers treatment. Orthopedic specialists in Delhi prefer knee arthroscopy since it ensures faster recovery, fewer complications and less scarring than traditional surgeries. You must walk carefully after the surgery to fasten recovery.
Source
https://orthoinfo.aaos.org/en/treatment/knee-arthroscopy/
https://www.healthline.com/health/knee-arthroscopy
What are the medicines that I must take after knee arthroscopy?
You can take opioids and non-steroidal inflammatory drugs to relieve pain but only when prescribed by your doctor.
Do I need to exercise regularly after the surgery?
Yes, after knee arthroscopy, you must exercise regularly for several weeks. These exercises will restore the motion and strength of the muscles of the legs.
Can I walk properly after undergoing knee arthroscopy?
Yes, you can walk with crutches or walkers after a few days. You can recover completely after a month.
Am I allowed to bend my knees after the surgery?
Yes, the orthopedic specialist will encourage you to bend and straighten the knees. Although due to the swelling, the limbs may exhibit restricted motion.

Book Appointment