Podiatric Services Treatment & Diagnostics in Karol Bagh, Delhi
Podiatric Services
Podiatric services deal with many disorders, deformities, diseases and medical complications of feet and lower legs.
What should you know about podiatric services?
Podiatry is a branch of medicine that covers the diagnosis and treatment of disorders of the lower extremities. It involves the use of surgical and therapeutic approaches. Podiatric services at any reputed orthopedic hospital in Delhi offer testing and treatment of diabetic foot ulcers, arthritic conditions of lower extremities, injuries, fractures and so on. Podiatrists perform several types of surgeries, treat bone fractures and correct deformities. They work closely with specialists from other departments, including surgery, internal medicine, radiology and pathology.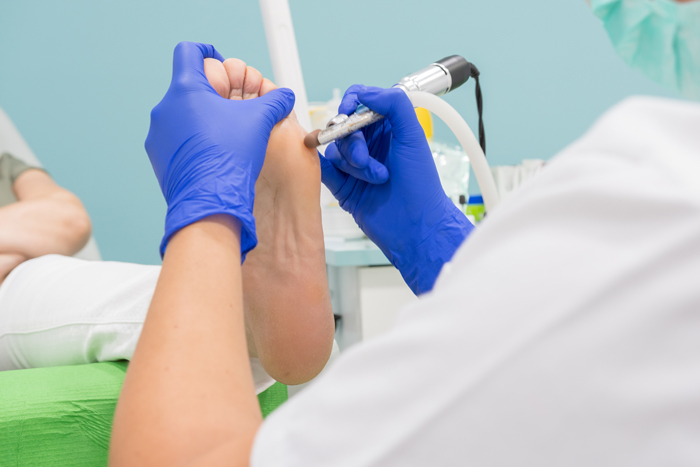 Who may require the podiatric services?
You may need podiatric services at any of the best orthopedic hospitals in Delhi, if you have an injury, infection or fracture in the lower leg, foot or ankle. You should visit a podiatrist if the following symptoms are present:
Pain in the lower leg, foot or ankle
Swelling with redness
Cracks in feet
Foot ulcers,
Leg cramps after walking
Discoloration of toenails
Tingling sensation
Abnormal growth of wart-like lumps
Peeling of the skin or scaling in toes
Visit an expert orthopedic specialist in Nehru Place to avail of podiatric services if you have any symptoms.
Request an appointment at Apollo Spectra Hospitals, Nehru Place, New Delhi.
Call 1860 500 2244 to book an appointment.
Why are podiatric procedures conducted?
Podiatrists from any reputed orthopedic hospital in Delhi perform a variety of surgical procedures and also use medicines and other devices to offer treatment for the following conditions:
Morton's neuroma - Severe pain and numbness are common symptoms of neurological disorders such as Morton's neuroma.
Hammertoes – This is a deformity of the foot that results in bending of the foot. Deformity correction procedures can offer positive outcomes.
Disorders of nails - Fungal infections of nails can cause unusual growth. Podiatric services can correct nail deformities by using suitable medication and surgical procedures.
Prevention and treatment of diabetic foot ulcers - Diabetic foot is a critical complication of diabetes. Podiatrists treat these conditions and can also suggest ways to prevent such complications.
Sprains and bone injuries - Lower leg, foot and ankle are prone to fractures and sprains. Podiatric services offer a variety of surgical and other treatment options.
What are the benefits of podiatric services?
Podiatric services are crucial for taking care of the lower leg, ankle and feet. These services can offer effective management of acute and chronic conditions. You can use podiatric services to correct foot deformities and treat bone injuries. These services are beneficial for diabetic patients because of the risk of diabetic foot ulcers. Following are some notable advantages of podiatric services:
Prevention of complications of lower extremities
Adopting a specialized approach for foot care
Recommendation of shoe inserts to relieve pain and improve leg function
Customizable treatments and procedures for long-term health of the foot
Podiatric services can also offer in-depth gait analysis to determine factors that can lead to injuries. It can also help rehabilitation therapy. The study can involve the assessment of ligaments, muscles and joints.
What are the health risks that require podiatric services?
Several issues can lead to problems with the foot. Children may have foot deformities from birth or because of growth retardation. Trauma or fracture can lead to deformities that need correction procedures by an expert orthopedic specialist in Nehru Place. Following risks can cause foot problems:
Heredity
Improper blood circulation
Neurological disorders
Diabetes
Cardiac problems
Brain stroke
High cholesterol
Rheumatoid arthritis
Diabetes poses the highest risk for foot problems. Failure to prevent or treat diabetic foot ulcers can require amputation of the foot to avoid infections. You can seek expert advice for self-care from podiatric services. Visit any reputed orthopedic hospital in Delhi to consult a podiatrist.
Request an appointment at Apollo Spectra Hospitals, Nehru Place, New Delhi.
Call 1860 500 2244to book an appointment.
Reference Links:
https://www.healthline.com/health/what-is-a-podiatrist#why-see-a-podiatrist
Is it okay to see an orthopedic specialist for foot problems?
Any experienced orthopedic specialist in Delhi can offer treatment for foot problems. Visiting a podiatrist for any problem of the lower leg, ankle and feet is always better. Podiatry is a specialized branch of medicine that deals only with problems of the foot. These specialists have an in-depth understanding of foot problems because of their special training. They know about specific treatment options for prevention and treatment of foot and leg disorders.
What is the primary cause of heel pain?
You can experience severe pain in the heel because of a condition known as plantar fasciitis. Calcium buildup in the heel bone may cause severe pain in the area. Several conditions can cause heel pain. These conditions are treatable at an orthopedic hospital in Nehru Place with medicines, shoe inserts and surgeries.
What are the standard tests to diagnose foot problems?
Podiatric services offer an array of tests and imaging studies to detect the exact cause of foot problems. These include blood tests, X-rays, nail swabs, MRI scans and ultrasound.

Book Appointment