Best Ankle Arthroscopy Treatment in Alwarpet, Chennai
The branch of medical science that deals with diagnosis and treatment of your body's musculoskeletal system is called orthopedics. This system includes your bones, joints, ligaments, tendons, muscles and nerves, as injuries and diseases of these parts are treated by orthopedists. They rely on surgical and nonsurgical forms of treatment for dealing with the issues of the musculoskeletal system such as injuries, joint pains, back aches, etc.
Orthopedists treat the ailments of bones, muscles, joints, etc. These include fractures, bone dislocations, hernia and other medical issues. They also treat patients that have suffered bone injuries due to accidents, sometimes deploying surgical methods. One such surgical procedure is ankle arthroscopy, a minimally invasive surgery (MIS) carried out to treat the problems of the ankle joint.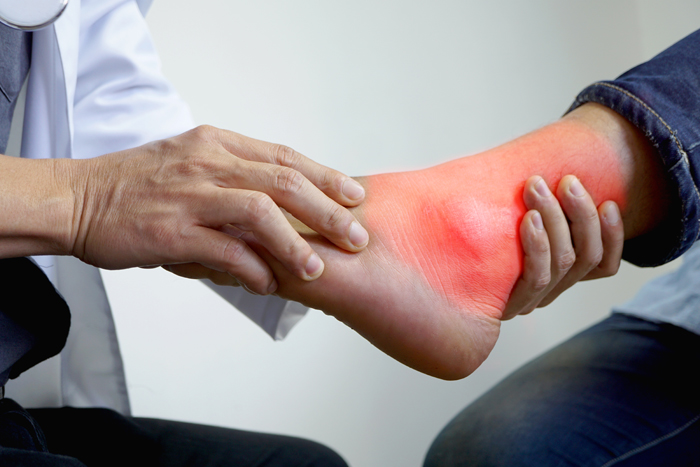 What is ankle arthroscopy?
Ankle arthroscopy is an MIS procedure that is carried out by inserting a small, thin tube camera into the ankle joint to treat inflammation, fracture, OCD, arthritis, etc. The fiber-optic camera device known as an arthroscope transmits images onto a screen, which assists the orthopedist in performing the surgery. This minimally invasive procedure leads to reduced ankle pain and improved functioning, while causing less scarring and post-op pain.
Conventionally, open surgeries were performed by orthopedists for treating fractures and other bone disorders. Minimally invasive surgeries are now preferred alternatives to open surgeries as they lead to less bleeding, less damage to surrounding organs and less complications.
Orthopedists near you prefer MIS surgeries like ankle arthroscopy due to the relatively higher safety aspect of the procedure. To know more, you can visit any of the orthopedic hospitals in Chennai.
How is an ankle arthroscopy carried out?
Arthroscopy is used as a diagnostic device for detecting issues in a bone joint. Ankle arthroscopy can provide an orthopedist with real-time imaging feed to help them diagnose issues such as anterolateral impingement, loose pieces, torn cartilage, bone chipping, osteophytes, etc. Thus, ankle arthroscopy serves as an accurate diagnostic tool for detecting diseases of the ankle.
Ankle arthroscopy is also a surgical procedure, where the arthroscope guides the surgeon during the procedure. Incisions are made in the ankle, and they serve as entry points for inserting the arthroscope. Motorised shavers and hand-operated instruments are used to perform bone restorative surgery, and the incisions are stitched.
Why is ankle arthroscopy done?
Ankle arthroscopy is conducted for patients who suffer from ankle arthritis, and need ankle fusion with the help of an arthroscope. Realignment of bone and cartilage is carried out with an ankle arthroscopy, if a patient is suffering from ankle fracture. Stretched out ligaments can be tightened with this technique, to treat ankle instability.
Ankle arthroscopy is also beneficial for treating:
Anterior ankle impingement
Posterior ankle impingement
Arthrofibrosis
Infection
Bone spurs
Loose cartilage/bone
OCD - Osteochondral defect
Synovitis
When do you need to see a doctor?
If you suffer from any of the disorders mentioned above, you could seek consultation from the best ankle arthroscopy doctor in Chennai.
Request an appointment at Apollo Spectra Hospitals, Alwarpet, Chennai.
Call 1860 500 2244 to book an appointment.
What are the risks of ankle arthroscopy?
Risks associated with the use of anesthesia
Bleeding from blood vessels near the ankle
Nerve damage
Neurovascular injury from portal placement
Neuropraxia
Immobilization
Synovial cutaneous fistula
Conclusion
Ankle arthroscopy is a highly beneficial minimally invasive surgical procedure that is helpful for treating various ailments and disorders of the ankle. Orthopedists prefer this procedure for its low risk and pain profile, as a diagnostic medium and a surgical procedure. After the surgery is concluded, patients may be recommended to use crutches for the next few weeks.
On some occasions, an immobilizer may be placed. Sometimes, doctors recommend that the ankle is placed in a cast to prevent any injury, pain or damage, and promote healing. Pain medications may be advised, along with antibiotics and NSAIDs. Thus, ankle arthroscopy is performed for surgical evaluation, treatment and diagnosis of the conditions of the ankle.
What is the recovery period after an ankle arthroscopy?
Severe pain is experienced for 3-5 days after the surgery ends. Total recovery is expected between 4 and 8 weeks. Physically intense activities are not recommended for at least 8 weeks.
Is it okay to drive after an ankle arthroscopy?
No. The patient should avoid driving for at least 3-4 weeks. Patients should consult their surgeons, for their particular cases.
Is physiotherapy required after an ankle arthroscopy?
Depending on the exact diagnosis and reasons for performing an ankle arthroscopy, physiotherapy may be recommended. Physical rehabilitation through therapy, exercises, massages and other procedures aid recovery and reduce pain, after an ankle arthroscopy.

Book Appointment