Urological Endoscopy Procedure in Alwarpet, Chennai
Urinary tract diseases and infections are generally irritating, painful, and discomforting. They not only cause lots of inconveniences but also hamper your quality of life. That is why it's essential to treat such problems as soon as possible. Urological endoscopy is a surgical procedure used to treat urinary tract problems. It's a very safe procedure.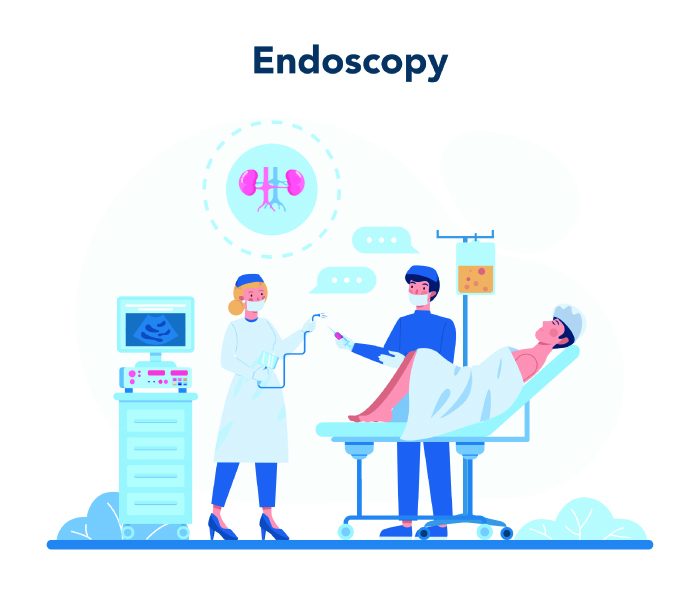 What Do We Need to Know About Urological Endoscopy?
Endoscopic surgeries are done as a better alternative to open surgeries. These surgeries require more minor cuts and minimal insertion into the body. An endoscope is a skinny, long, flexible tube with an attached camera used to diagnose and treat urological problems. This surgery causes less trauma to the patient and usually takes an hour to perform.
Who Qualifies for a Urological Endoscopy?
Patients facing problems in the context of the below-mentioned points automatically qualify for a urological endoscopy:
Reappearing urinary tract infections
Blood in the urine
Painful urination
Constant urge to urinate
Unable to empty the bladder
Leakage of urine
Slow urination
Bleeding in the prostate
BPH symptoms
Why Is a Urological Endoscopy Conducted?
This procedure is conducted for the diagnosis and the treatment of urological disorders like:
Prostate and bladder cancer
Stones in kidneys and the UT.
Kidney blockages
Vaginal prolapse
Urinary incontinence
Abnormal tissues like tumors
To insert a stent
Request an appointment at Apollo Spectra Hospitals, Alwarpet, Chennai.
Call 1860 500 2244 to book an appointment.
Different Types of Urological Endoscopy
Urologic endoscopies can be done in two ways :
Cystoscopy – This is performed to treat and diagnose problems of the urethra and urinary bladder.
Ureteroscopy – An endoscope with a longer tube is required in this procedure. This is performed to treat and diagnose problems of the kidney and ureters.
Benefits of Urological Endoscopy
Advantages of the urological endoscope are :
It is less traumatic and minimally invasive
Performed within an hour
Less painful
Small incisions are made on the body
Quick recovery time
Low chances of infection
Very minimal scarring
Minimal blood loss
Risks and Complications Involved With a Urological Endoscopy
This procedure is considered to be one of the safest surgical methods. However, it involves some general post-surgical complications like:
Urinary tract infection
Burning sensation while urinating
Blood in the urine
Frequent urge to urinate
If a stent is inserted, then a second procedure is done for its removal
Retrograde ejaculation
Erectile dysfunction.
Reference
https://www.sutterhealth.org/services/urology/urologic-endoscopy
https://www.hopkinsmedicine.org/minimally_invasive_robotic_surgery/types.html
What type of doctor performs this surgery?
A urologist will perform urological endoscopy.
What are the disadvantages of this procedure?
This procedure is highly technical and requires highly specialized surgeons to perform. It's a bit costly at the same time.
When to see a doctor for Urological endoscopy?
When you experience common urinary tract problems like frequent or less urination, burning while urinating, blood in urine immediately seeks medical attention. Search on the internet ' urologist near me or 'urological treatment hospital near me.'

Book Appointment