Biliopancreatic Diversion Procedure in Alwarpet, Chennai
Visiting a medical facility is common enough. Yet you may want to inquire about the best bariatric surgery doctors in Alwarpet when you want to get rid of additional body fat and attain optimal weight. There are many types of bariatric surgery recommended by specialists reputed for treating obese patients. One of the lesser-known procedures in bariatrics, a biliopancreatic diversion, may be suggested to you too.
Also termed as BPD/DS and duodenal switch, the entire procedure consists of two separate steps consisting of sleeve gastrectomy followed by intestinal bypass that eliminates the passage of food through the intestine by connecting the distant part of the intestine directly to the end of the stomach, thereby limiting the amount of food intake drastically. This bariatric procedure is usually advised for obese patients who have a body mass index (BMI) over 50. This weight loss surgery is quite effective but is associated with certain risks.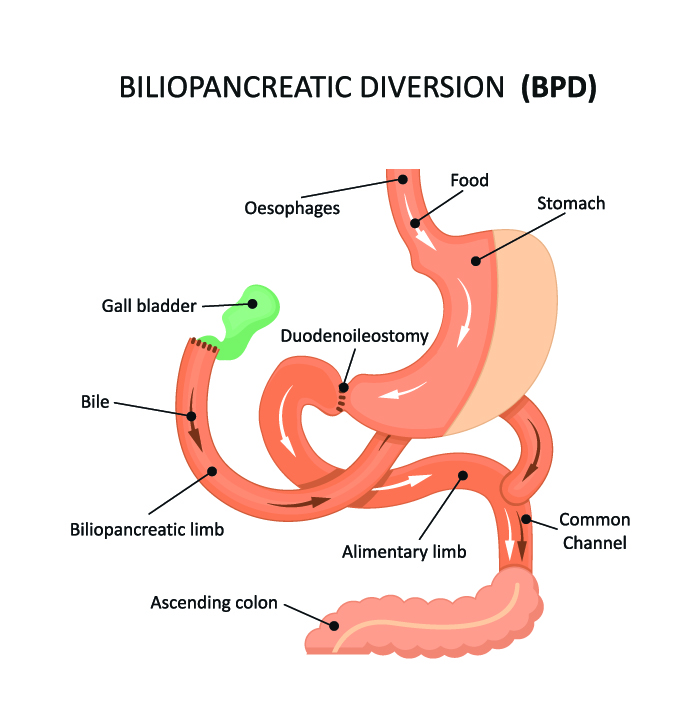 How Is BPD/DS Done?
It is a complex process that requires meticulous care and attention to detail. Professionals hugely experienced in performing laparoscopic duodenal switch surgery in Alwarpet usually undertake this responsibility. The objective of the surgery is to induce a gradual loss of weight. The first part of the lengthy procedure includes sleeve gastrectomy, where the majority portion of your stomach will be made non-functional by stapling it with specialized equipment. The remaining portion resembles a narrow tube or sleeve. The purpose is to have a smaller cavity to fill for nutrition so that the amount of food required is minimal. You will feel satiated after eating less food and lower the calorie requirement at the same time.
The best sleeve gastrectomy doctors in Chennai will change the route of food that enters the body. A significant part of the intestine is made redundant with the nutrients entering the distant part of your intestine straight from the duodenum. The total length of the intestine is divided, with digestion occurring in a small portion. The number of calories is reduced drastically, causing you to lose weight in the process.
The Best Candidates for Biliopancreatic Diversion
This is a relatively rare form of weight loss surgery and is advised when other alternative procedures for losing weight have been unsuccessful. This form of sleeve gastrectomy in Chennai may not be suitable for you even if you are diagnosed as morbidly obese. This is generally tried as a last resort for weight loss, especially when carrying extra weight has made you prone to several life-threatening conditions. Laparoscopic duodenal switch surgery in Chennai is minimally invasive and carried out by skilled surgeons when you have already been diagnosed with the following conditions:-
Heart ailments
Serious sleep apnea
Respiratory problems
Stroke
Type 2 diabetes
High cholesterol level
Nonalcoholic fatty liver disease
Severe hypertension (very high blood pressure)
Infertility
Reasons to Go Through BPD/DS
This is the best type of weight-loss procedure for patients who cannot lose weight by any other means.
Statistics reveal that most patients experience between 60% to 70% weight loss within 2 to 5 years after the surgery.
Eating small amounts of food induces satiety.
It has been effectively controlling high blood sugar
You would be able to eat typical food after you recover fully from the effects of surgery
It is advisable to visit a specialist in bariatric surgery in Alwarpet to learn more about your condition and the best available treatment.
Request an appointment at the Apollo Spectra Hospitals, Alwarpet, Chennai.
Call 1860 500 2244 to book an appointment.
Associated Risks of Biliopancreatic Diversion
Every type of bariatric surgery poses a risk to the patient, with BPD/DS being no different. The stakes are similar to other abdominal surgeries and include f the following:-
Abnormally excessive bleeding
Infection(s)
Side effects of anesthesia
Formation of blood clots
Lung Disease
Breathing problems
Leakage in the gastrointestinal tract
Conclusion
Biliopancreatic Diversion or BPD/DS or duodenal switch is a type of weight loss surgery that will help you lose most of the excess weight within 2-5 years. It is advised for patients who have failed to lose weight by other procedures. While it has a few associated risks, the percentage of success rate is encouraging. You need to consult an experienced doctor regularly and make specific lifestyle changes to ensure health afterward.
References
https://www.hopkinsmedicine.org/health/treatment-tests-and-therapies/bpdds-weightloss-surgery
https://www.mayoclinic.org/tests-procedures/biliopancreatic-diversion-with-duodenal-switch/about/pac-20385180
How long does the Biliopancreatic Diversion procedure take?
This is an extensive and complicated bariatric surgery that can take well over an hour to complete. Both the stages may be performed in quick succession, but sometimes the doctor may opt to do it as two separate procedures.
Is it necessary to take vitamin supplements after the procedure?
It is essential to take vitamin and mineral supplements to make up for the deficiency that may result from less absorption.
Can the weight be put back after the surgery, causing obesity once again?
It is possible to follow a regular diet after recovering from the surgery. Overeating is strictly discouraged as it might lead to complications and regaining the lost weight. The doctor/nutritionist will recommend a balanced diet with lifestyle changes for best results.

Book Appointment