Fistula Treatment & Surgery in Alwarpet, Chennai
A fistula is an abnormal duct or passageway between two body parts, organs, or blood vessels with other structures. For example, fistulas connect the intestine and the skin, vagina, and rectum. Infection or inflammation is the primary reason for the formation of a fistula. Like other conditions, fistulas cannot heal without treatment. Therefore, fistulas should be diagnosed early, and proper care is necessary to maintain healthy tissue and prevent their formation.
For diagnosis and treatment, you can visit any of the gastroenterology hospitals in Chennai. Alternatively, you can search online for the best gastroenterologist near me.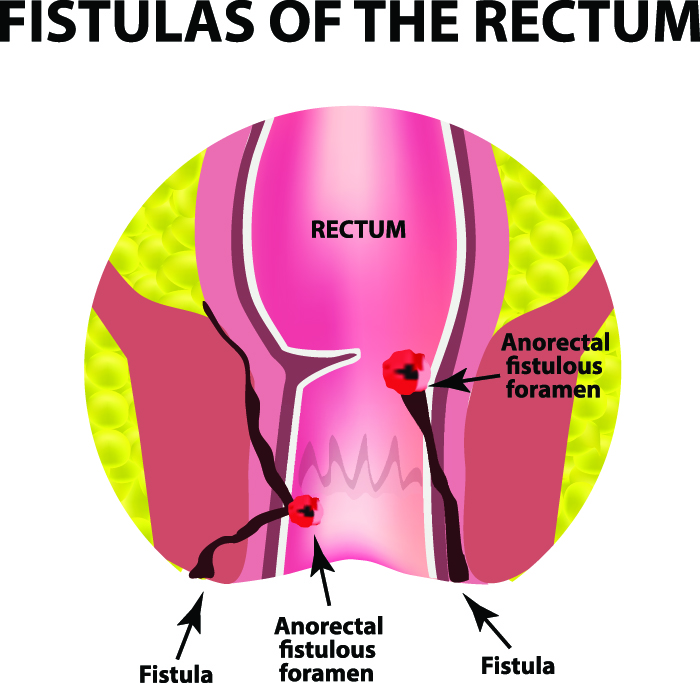 What Are the Types of Fistulas?
Fistulas can form between various parts of the body. They include:
Anorectal Fistula- between the anal canal and the skin around the anal opening.
Colo vaginal fistula- between the colon and the vagina.
Rectovaginal or anovaginal fistula- between the rectum or anus and the vagina.
Vesicovaginal fistula-between the bladder and the vagina.
Urethrovaginal fistula-between the urethra and the vagina.
Uteroperitonial fistula-between the uterus and the peritoneal cavity.
Enteroenteral fistula- between two parts of the intestine.
Enterocutaneous or Colocutaneous fistula-between the small intestine and the skin or the colon and the skin, respectively.
Fistulas also classified as
Blind fistulas - opened at one end only but connected to two structures.
Complete fistulas - have openings on either side.
Horseshoe fistulas - connect the anus to the skin surface after passing around the rectum.
Incomplete fistulas - have an external opening, but there is no internal opening.
What Are the Symptoms of the Fistula?
Common symptoms include:
Pus or discharge
Pain, fever, itching, and tenderness
Short of breath or chest infections
Urine leakage from the vagina
Nausea, vomiting, or diarrhea
Abdominal pain
Passing stools in urine
What Are the Causes of Fistula?
The most common causes of fistula include:
Injury to the bladder during hysterectomy.
Rectovaginal fistula during childbirth because of a vaginal tear.
Obstructed or prolonged labor. During this, there will be no proper blood flow to the tissues and can cause damage.
Obstetric and colorectal fistulas because of abortions, pelvic fractures, cancer, or radiation therapy.
Anal abscess or any inflammatory bowel diseases.
How to Diagnose The Condition and When to See a Doctor?
Consult a colorectal surgeon or gastroenterologist near you if you experience any abnormal symptoms. Early diagnosis is important to prevent potential complications. Fistulas are usually diagnosed through a physical exam CT scan, or if needed, barium enema, colonoscopy, upper endoscopy, intravenous pyelogram, or a fistulogram.
Request an appointment at Apollo Spectra Hospitals, Alwarpet, Chennai.
Call 1860 500 2244 to book an appointment.
What Are the Treatment Options for Fistula?
After obtaining the diagnosis results, surgeons refer to the best treatment plan based on the size and the location of the inflammation.
Medications
Antibiotics or anti-inflammatory medications, or other biological therapies are used to treat fistulas. However, if these medications do not heal the fistulas, then gastroenterology surgeons recommend other treatments discussed below.
Non-Invasive Treatment
Fibrin glue made from donor plasma acts as a specific adhesive for sealing fistulas.
A plug is a collagen matrix used to fill the fistula.
Catheters are used to drain fistulas, and catheters are usually employed on small fistulas to manage infection.
Surgical Treatment
Transabdominal surgery is performed through an abdominal wall incision.
Laparoscopic surgery is minimally invasive surgery involving tiny incisions, cameras, and small tools to repair the fistula.
Fistulotomy is another surgical procedure to treat anal fistulas, whereas vaginal fistulas can be treated using intravaginal surgery.
What Complications Can Arise from Fistula?
Potential complications include:
Sepsis is a common response because of a bacterial infection
Peritonitis or inflammation of the peritoneum
Fecal incontinence or perforation
Conclusion
A fistula is an abnormal growth that connects any two organs. Some fistulas can heal with some medications, but in most cases, it requires surgery. Consult the best gastroenterologist regularly and take medication as prescribed to manage the risk factors of fistula.
Request an appointment at Apollo Spectra Hospitals, Alwarpet, Chennai.
Call 1860 500 2244 to book an appointment.
References
https://www.uclahealth.org/womens-pelvic-health/fistulas
https://www.macmillan.org.uk/cancer-information-and-support/impacts-of-cancer/fistula
https://www.verywellhealth.com/what-is-a-fistula-1941776
https://www.britannica.com/science/fistula
https://medlineplus.gov/ency/article/002365.htm
Is a fistula a sign of cancer? What are the causes of cancer fistula?
Yes, if fistulas are left untreated, it may lead to cancer. The risk of getting cancer fistula increases if there is cancer in the pelvic area or if you have undergone chemotherapy or radiotherapy or had a biopsy.
How successful is fistula surgery? Is there any chance of recurrence of fistulas after surgery?
The advantage of the surgeries is that they are simple procedures with low morbidity and incontinence rates. Most commonly performed surgeries for fistula report a success rate ranging from 75% to 94%. Unfortunately, fistulas can come back and will require additional surgery to treat them despite the success rate and proper healing.
How to prevent obstetric fistulas?
As obstetric fistulas are linked with pregnancy, it is important to take certain precautions that include:
Family planning.
Partograph - a tool for managing prolonged or obstructed labor.
Immediate catheterization to prevent the risk of fistula in women with obstructed labor.
Cesarean section.

Book Appointment