Minimally Invasive Knee Replacement Surgery in Alwarpet, Chennai
Minimally invasive total quadriceps replacement knee joint is a new surgical technique that allows surgeons to insert the same proven and reliable knee replacement implant through a shorter incision. The method saves your quadriceps group of muscles attached to your knees. If you need to discuss this with a doctor, you can easily search for a partial knee replacement near me, an orthopedic doctor near me, a knee specialist near me, or an orthopedic surgeon near me and talk it out with your doctor.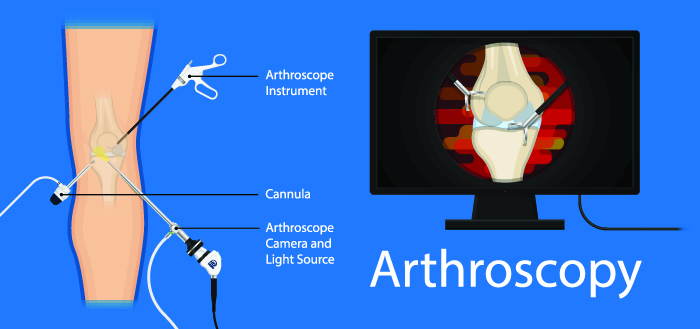 About MIKRS
Knee replacement surgery or knee arthroplasty is a surgical procedure that can help relieve pain and restore knee joint function even in severe medical conditions. Metal alloys, high-quality plastics, and polymers are used to replace the damaged cartilage and bone in your knee and thigh region.
Compared with traditional total knee arthroplasty, minimally invasive methods are not suitable for all with knee problems. Look for an orthopedic specialist near me and discuss various surgical options with experts.
The artificial implants used are the same as those used in traditional knee replacements. However, special surgical instruments are used to prepare the knee and place implants correctly. The smaller incision allows fewer tissue changes. An incision is a technique to open the knee and is less invasive. In general, minimally invasive knee replacement techniques use "quadriceps sparing" methods, which means they can prevent injuries to the quadriceps tendon and front thigh muscles.
Other types of MIKRS are midvastus and subvastus. They make small incisions in the muscles, but they are also less invasive than traditional knee replacements. If the technique used to expose the joint involves less muscle breakdown, it can reduce postoperative pain and shorten recovery time.
In both types of surgeries, one has to stay in the hospital for the same amount of time. This ranges from outpatient surgery (on the same day) to hospitalization for 1 to 4 days. Physical rehabilitation is an integral part of rehabilitation. Your surgeon or physical therapist will recommend specific exercises to help you increase your range of motion and restore strength. Searching for a knee doctor near me, bone doctor near me, ortho doctor near me online will give you some options for immediate consultancy near you.
Who Qualifies for MIKRS?
The operation is successfully performed by a team of orthopedic surgeons, a keyhole consultant, and minimally invasive orthopedic surgeons.
Apollo Health City uses the OrthoGlide medial knee system for revolutionary minimally invasive knee replacement surgery (MIKRS). The Apollo Hospitals are the first in the country to perform OrthoGlide knee surgery on both the knees of the same patient. You just need to search for orthopedic hospitals near me, or some of the best ortho doctor near me to find us or,
Request an appointment at Apollo Spectra Hospitals, Alwarpet, Chennai
Call 1860 500 2244 to book an appointment.
Why Is MIKRS Conducted?
This surgery is the solution for the most common cause of knee pain is arthritis, where the inner layer of the joint called cartilage is damaged by wear and tear, leading to inflammation and pain. Statistics suggest that 50% of the population in India will develop arthritis at some stage in their lives, which is the second most common disease after diabetes. The procedure aims to restore the correct alignment of the joints, distribute the load more evenly, and increase stability.
Benefits Of MIKRS Over Traditional Surgery
It is an advancement over the traditional methods used earlier and is popular due to the following benefits:
The procedure is similar to minimally invasive knee replacement surgery, but there are fewer incisions in the knee joint tissue.
Minimally invasive knee arthroplasty is performed through a short incision; usually, 4 to 6 inches, compared to 8 to 10 inches for traditional knee arthroplasty.
Faster healing and recovery to normal activity levels
Minor damage to normal tissues
Lesser pain after the surgery, for a smoother recovery.
What Are the Risks or Complications Of MIKRS?
MIKRS is a new surgical technique, and research for further improvements is still going on for an even better outcome. As with any surgery, minimally invasive surgery carries the risk of complications, including infection, wound healing problems, blood clots, nerve, and arterial damage, and improper placement of knee prostheses.
References
https://www.mayoclinic.org/tests-procedures/knee-replacement/about/pac-20385276
https://www.apollohospitals.com/apollo-in-the-news/apollo-hospitals-performs-revolutionary-minimally-invasive-knee-replacement/
How fast will my recovery be?
It is a very subjective thing depending on the other medical conditions that you might have. Usually, you need to stay around 2-5 days in the hospital. You might be able to start walking in one or two days after the surgery and might even be able to climb stairs.
Will I need blood for the surgery?
No, there is no need for blood transfusion during this surgery as it incurs minimal blood loss. Just look for orthopedic surgery near me or an ortho hospital near me and delay consulting a doctor.
Is there any post-operative care for me to maintain?
Yes, you will be put on painkillers and antibiotic tablets for a few days after the surgery. Once your surgical wound heals, you will be recommended to take physiotherapy care. But, the duration of physiotherapy is lesser than a traditional surgical technique.

Book Appointment