Cystoscopy Treatment in Alwarpet, Chennai
Cystoscopy refers to a procedure that uses a cystoscope, a thin tube with a camera and light to examine the insides of an organ. During this procedure, a urology specialist in Chennai looks at the lining of a patient's bladder to detect tumors, gallstones or even cancer.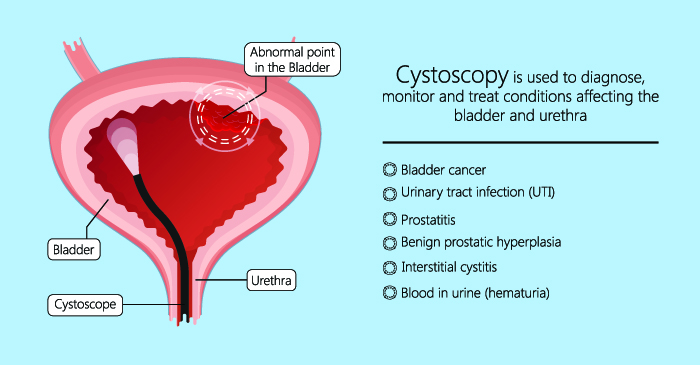 What is cystoscopy?
Cystoscopy is a procedure that analyses and deals with conditions that are affecting your urinary bladder (the sac that carries your urine) and urethra (the tube that carries the urine out of the body). This procedure is performed using a cystoscope. It is a tiny tube with a connected lens, a video camera, and a light at the end.
Cystoscopy is generally performed in a testing room, deploying a local anesthetic jelly to medicate your urethra. Or it may be an outpatient method, with sedation. Another alternative is general anesthesia.
Who qualifies for cystoscopy?
Contact your doctor or go to a cystoscopy specialist near you if you are experiencing:
Red blood or thick blood clots in your urine
Abdominal discomfort
Chills
High fever
Pain or irritation during urination
Request an appointment at Apollo Spectra Hospitals, Alwarpet, Chennai.
Call 1860 500 2244 to book an appointment.
Why is the procedure conducted?
Cystoscopy is used to diagnose, monitor and treat conditions impacting the bladder and the urethra. A cystoscopy specialist might advise cystoscopy to:
Examine the reasons for bladder issues. Some of the symptoms include blood in the urine, an overactive bladder, incontinence and painful urination. Cystoscopy can also assist in identifying the reason for periodic urinary tract infections. Nonetheless, cystoscopy isn't performed while you have an active urinary tract infection.
Analyse bladder diseases such as bladder cancer and bladder inflammation (cystitis).
Treat bladder diseases and conditions. Special equipment can be inserted through the cystoscope to treat specific conditions. For instance, a small bladder tumor might be removed during cystoscopy.
Cystoscopy specialists generally conduct another procedure named ureteroscopy at the same time as your cystoscopy. Ureteroscopy deploys a minor scope to investigate the tubes that hold urine from your kidneys to your bladder (ureters).
What are the different types of cystoscopy?
There are two types of cystoscopes, i.e., a standard rigid cystoscope and a flexible cystoscope.
Rigid cystoscope: These cystoscopes cannot fold. Your doctor can conduct biopsies and discard tumors through them.
Flexible cystoscope: These cystoscopes can be bent. A doctor employs it for examining your bladder and urethra from inside.
What are the complications?
Complications from cystoscopy can include:
Infection: Cystoscopy can introduce germs into your urinary tract, resulting in an infection. But this is a rare occurrence.
Pain: After the procedure, you might undergo abdominal pain and irritation when you urinate. These symptoms are commonly mild and slowly get better after the procedure.
Bleeding: Cystoscopy might lead to blood in your urine. Severe bleeding hardly occurs though.
Conclusion
Cystoscopy is a procedure that allows a doctor to evaluate the urinary tract, especially the bladder, the urethra and the entrances to the ureters. Cystoscopy can uncover issues with the urinary tract. This may encompass early signs of cancer, infection, blockage, narrowing and bleeding.
References:
https://fairfield.practo.com/bangalore/cystoscopy/
https://www.webmd.com/prostate-cancer/guide/cystoscopy
https://www.urologyhealth.org/urology-a-z/c/cystoscopy
https://www.niddk.nih.gov/health-information/diagnostic-tests/cystoscopy-ureteroscopy
Is the cystoscopy procedure painful?
Cystoscopy is generally not painful while performed under general anesthesia. There could be an uneasy feeling like a frequent urge to urinate or irritation when the tube is being inserted or discharged from the urethra if you have only been administered a local anesthetic.
Do I have to get admitted to a hospital for the procedure?
If the procedure is done under local anesthesia, you don't need admission. Suppose a procedure in addition to cystoscopy is to be conducted or scheduled. In that case, you may require admission as the specialist responsible for administering anesthesia will come and observe you the day before the surgery.
How is a ureteroscope different from a cystoscope?
A ureteroscope has an eyepiece, a rigid or flexible tube in the middle and a small lens with a light at the end, just like a cystoscope. The only dissimilarity is that it is more extended and thinner to observe accurate impressions of the linings of the ureters and the kidneys.

Book Appointment