Total Elbow Replacement Surgery in Alwarpet, Chennai
Our elbow performs multiple functions in our daily life. It is also prone to degenerative conditions and injuries. Total Elbow Replacement or Total Elbow Arthroscopy (TEA) is a complex surgical procedure in which an orthopedic specialist in Chennai replaces your elbow with implants that form an artificial joint. Total Elbow Replacement relieves pain, stabilizes the elbow, and enables individuals to perform their routine activities.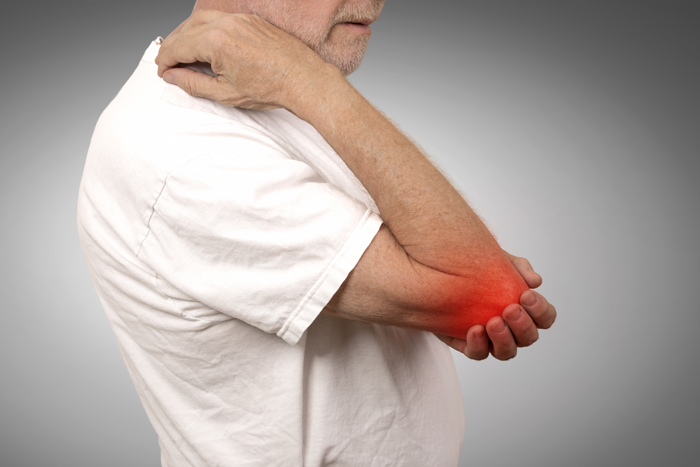 What Should You Know About Total Elbow Replacement?
During Total Elbow Replacement, an orthopedic specialist in Alwarpet replaces damaged parts of the upper arm bone and forearm bone with artificial implants. The artificial joint comprises two metal stems and a metallic or plastic hinge. An orthopedic surgeon fixes these implants inside the canal, a hollow portion of the bone, and then connects these with a hinge in the elbow. We know this as a linked implant.
In the unlinked implant, doctors do not use a hinge for linking the stems. Instead, they use muscles, ligaments, and similar structures in sound conditions to hold the stems together. Physiotherapy is vital following the unlinked implant procedure of Total Elbow Replacement.
Who Qualifies for Total Elbow Replacement?
Total Elbow Replacement is an ideal procedure for individuals who have rheumatoid arthritis and are suffering from severe symptoms despite using conservative treatments such as physiotherapy, injectable corticosteroids, and anti-inflammatory medicines.
Individuals who have severe elbow fractures that involve either one or more bones of the elbow joint are also ideal candidates for Total Elbow Replacement. The procedure is necessary if the alignment of the two bones is not possible. If you are experiencing severe pain in the elbow and loss of stability, consult an expert orthopedic specialist in Alwarpet for consultation.
Request an appointment at Apollo Spectra Hospitals, Alwarpet, Chennai
Call 1860 500 2244 to book an appointment.
Why Is Total Elbow Replacement Conducted?
Arthritis, traumatic injuries, and severe fractures can impact standard functionality of the elbow and cause severe pain. The most important reason for performing the Total Elbow Replacement procedure is damage to the elbow because of post-traumatic or osteoarthritis. Ligament injury results in the elbow's dislocation, causing loss of stability.
Open arthroscopy of the elbow may be necessary for osteoarthritis patients to remove spurs of bones, debris, and loose material. Any expert orthopedic specialist in Chennai can prevent dislocation of the elbow because of damage to ligaments by performing Total Elbow Replacement.
Benefits of Total Elbow Replacement
Total Elbow Replacement enables restoration of mobility and relief from painful symptoms of a damaged elbow joint. The procedure helps people with elbow fractures and osteoarthritis, improve the stability and functionality of the elbow. People can do most of the basic activities of daily life with ease. There are several benefits of Total Elbow Replacement in the long run, and improved quality of life is the most crucial benefit among these. Your doctor can guide you about how the procedure of Total Elbow Replacement can bring a positive change in your life by examining and assessing your condition and other aspects of your daily routine. Visit any reputed orthopedic hospital in Chennai to find out how Total Elbow Replacement will benefit you.
Risks or Complications of Total Elbow Replacement
Common risk factors after the Total Elbow Replacement procedure include:
Allergy to artificial implants
Post-surgical infections
Nerve injuries
Joint instability or stiffness
Weakness in tendons of the arm
Loosening of the artificial implants
Your doctor will advise you not to lift any load after the surgery. This is the most significant limitation of Total Elbow Replacement.
Reference links
https://www.mayoclinic.org/tests-procedures/elbow-replacement-surgery/about/pac-20385126
https://orthoinfo.aaos.org/en/treatment/total-elbow-replacement/
https://mobilephysiotherapyclinic.in/total-elbow-replacement-and-physiotherapy-exercise/
What about my recovery post-surgery?
Proper physiotherapy treatment in Chennai is crucial to healing after Total Elbow Replacement. The rehabilitation process includes hand and wrist exercises, to begin with. This will follow elbow exercises for improving the range of motion. You will also receive guidance about home exercises as per the requirement.
How will metal implants influence security checks at airports and other places?
Most probably, your metal implant will activate the security alarm. You need to carry a certificate from an orthopedic specialist in Chennai to be on the safer side.
Is it necessary to wear a sling after the procedure?
Use a sling for protecting the replacement for three weeks after the surgery of Total Elbow Replacement. You can take the splint off only while performing physiotherapy.

Book Appointment