Knee Arthroscopy Surgery in Alwarpet, Chennai
Knee arthroscopy is a procedure used for treating knee joints. It is a minor surgery and less painful than open knee surgeries.
Knee arthroscopy surgery in Chennai is performed by experienced surgeons. You can also visit an orthopedic hospital near you for treatment.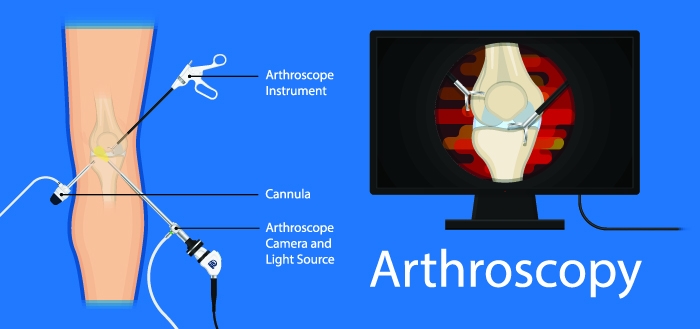 What is knee arthroscopy?
Knee arthroscopy is a surgery for the knees. During this operation, a very small cut is made to insert a tiny camera, known as an arthroscope. It is used for treating as well as for diagnosing medical issues. This procedure is often resorted to by doctors as it ensures faster recovery.
The procedure is conducted with precision. Local or general anaesthesia is administered for numbing the affected region. The doctor makes minor cuts in the knee and pumps saline solution. The saline solution helps in expanding the knees and allows easy entry of the arthroscope. The arthroscope displays the condition of the knees on a monitor and also takes images of the affected region. In some cases, surgeons also use small surgical instruments along with an arthroscope for an on-the-spot treatment. You can go back to your home on the same day after the surgery.
Who qualifies for the knee arthroscopy?
Knee arthroscopy is suggested if you suffer from severe knee pain or any other knee-related problem. It is a safe procedure but before the surgery, inform your doctor about the medications and supplements you are taking and about any other major surgery you had undergone in the past. Before the surgery, your doctor might also advise you to avoid taking medicines like Aspirin. You must also not eat anything twelve hours before the surgery.
Why is knee arthroscopy conducted?
Knee arthroscopy is an ideal solution for:
Knee fracture - microfracture in or near the knees
Cartilage transfer - replacing the damaged cartilage with a healthy one
Lateral release of knee cap - in the case of a dislocated knee cap, loosening the ligaments and fixing the knee cap
Swollen lining in the joints
Removal of Baker's cyst from knees
Identifying damage in cartilage
Reconstruction of ACL (Anterior Cruciate Ligaments)
Tear in the ligaments between the knee bones
Displacement of patella
What are the benefits of knee arthroscopy?
Knee arthroscopy is comparatively less painful and does not cause discomfort. It is proven to be the best solution for removing stiffness, draining the excessive clotted fluid in the knee joints and around the knee cap and treating damaged cartilage from the knees. In many knee disorders, arthroscopy is the best option as:
Knee arthroscopy does not cause excessive tissue damage
It is Less painful
It does not require too many stitches
There are fewer chances of getting an infection
What are the complications?
Knee arthroscopy is a safe procedure, but if not performed with utmost precision, it can cause a few complications such as:
Infection in the operated region
Excessive bleeding during the surgery
Blood clots in the knee or leg
Allergic reactions like difficulty in breathing because of medicines and anesthesia
Damage in the nerves or muscles
Internal bleeding
When do you need to consult a doctor?
The chances of complications are quite rare but stay in touch with your doctor. If you feel any discomfort after the surgery, including fever, discharge of fluid from the operated area, numbness or increase in swelling, talk to your doctor immediately.
Request an appointment at Apollo Spectra Hospitals, Alwarpet, Chennai.
Call 1860 500 2244 to book an appointment.
Conclusion
Knee pain is very common nowadays. Knee arthroscopy helps in treating minor cases and in diagnosing some of the major knee disorders. Take proper rest after the surgery. With the right medications and precautions, you will recover quickly.
How can I recover from knee arthroscopy?
Here are a few tips for quicker recovery:
Resting your legs and avoiding excessive movements of joint
Using ice pack in the operated area
Keeping your knee slightly elevated than the rest of the body
Opting for slings or crutches
How long does knee arthroscopy take?
Knee arthroscopy takes a maximum of two hours. In some cases, it gets completed in less than an hour.
Can osteoarthritis be treated with knee arthroscopy?
Knee arthroscopy is not quite beneficial in all cases. It can be used to diagnose osteoarthritis but not for its treatment.

Book Appointment