Cleft Palate Surgery in Alwarpet, Chennai
A cleft palate or cleft lip is a defect where open slits known as clefts are visible on the roof of the mouth or on the upper lip. The condition can be diagnosed shortly after birth. It can be corrected by surgical methods.
There is no cause for anxiety as it is a treatable condition and can be corrected with cleft lip repair treatment in Alwarpet. This type of defect may occur in isolation or maybe a part of other associated genetic defects. It is recommended that you consult a cleft repair specialist near you for correcting a cleft.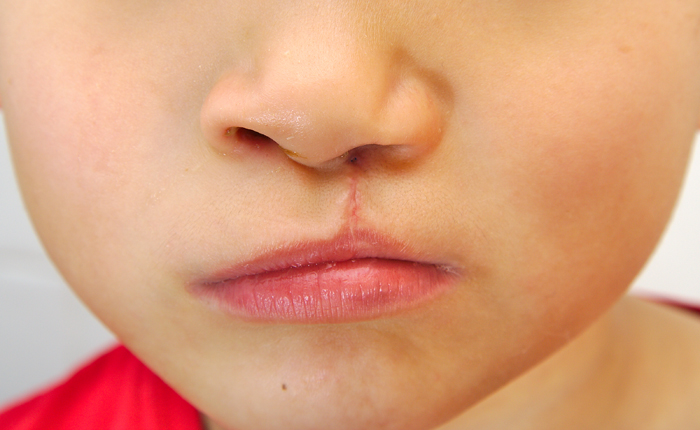 How is a cleft lip or cleft palate repaired?
The actual procedure will depend on the position of the cleft. While the initial surgery will close the cleft firmly, doctors advise a number of additional surgeries to ensure the proper functioning of the baby's body.
Your baby will be able to improve in appearance once the nose and upper lip attain a regular form after surgery. Your child will be able to speak properly and articulate words easily after successful cleft lip repair treatment in Chennai.
Your doctor will advise you about when to conduct reconstruction surgery for your baby. You will be asked to prepare for the following -
Cleft lip surgery when the child is between 3 to 6 months old
Cleft palate repair on children under the age of 1
The follow-up repair procedures can go on from the age of 2 until the child becomes a teenager
Who qualifies for cleft repair treatment?
Babies born with a prominent gap on the upper lip and/or roof of the mouth will find it difficult to suck, chew and speak properly. There may be other associated complications. Eliminating the gap is the only way to treat this birth defect. In such cases, cleft repair treatment is recommended.
Why cleft repair is conducted
The problem is apparent immediately after birth. It is best to consult an experienced plastic surgeon in Chennai who can undertake proper surgical procedures to eliminate the following:-
A visible split on the upper lip or the roof of the mouth affecting one or both sides of the face
A split that is not as obvious but extends from the upper lip right down to the palate through the upper part of the gums. It may reach the bottom of the nose too.
A split that is only visible when the baby opens the mouth as it remains limited to the roof of the mouth
It is not only the physical appearance that makes cleft palate or cleft lip repair treatment necessary. Children born with clefts also display the following symptoms:-
Inability to feed properly
Difficulty in swallowing food
Speech defects with a nasal tone of voice
Chronic infections of the ear
Dental problems
It is recommended that you consult a cleft palate or cleft lip specialist near you when your baby is born with a cleft.
Request an appointment at Apollo Spectra Hospitals, Alwarpet, Chennai
Call 1860 500 2244 to book an appointment.
Associated benefits of cleft surgery
The symmetry of the face is restored
The child does not suffer from low self-esteem
Swallowing becomes normal
Articulation and tonal quality of voice can be successfully corrected with speech therapy
Ear infections and dental problems are resolved
Risks and complications associated with cleft repair
Clefts are rare with only 1 out of every 1700 babies being born with such defects. Although the surgery is largely risk-free, the following complications can occur -
Fistula - This happens when there is a hole in the repaired palate. Foods and drinks can escape through the hole and leak out through the nose. In cases of a large fistula, speech is affected.
Velopharyngeal dysfunction - This happens when the soft palate is unable to block the air from entering the mouth through the back of the nose. This can also affect speech and speech therapy is often recommended.
Conclusion
Children with a cleft palate or a cleft lip require surgical intervention and reconstruction of the facial tissue. This is the only treatment to correct the condition. The associated complications disappear once the baby undergoes successful cleft lip repair treatment. It is advisable to contact an experienced plastic surgeon near you if you notice clefts in your baby.
References
https://www.mayoclinic.org/diseases-conditions/cleft-palate/diagnosis-treatment/drc-20370990
https://www.nationwidechildrens.org/specialties/cleft-lip-and-palate-center/faqs#
https://uichildrens.org/health-library/cleft-palate-frequently-asked-questions
Does a child born with cleft lip/cleft palate have difficulty learning to speak?
A baby born with only a cleft lip will learn to speak like other children. However, babies born with cleft palates may find it difficult to articulate words properly. Speech therapy is recommended in such cases after a series of surgeries.
How to ensure proper feeding for a baby born with clefts?
Babies born with a cleft palate may require modified feeding techniques for proper ingestion of food. Cleft lip, however, does not present any difficulties for a baby during breastfeeding.
How long will it take the baby to recover from the effects of surgery?
A baby will recover completely after a few weeks but close monitoring by the surgeon or specialist doctor is needed to check for progress.

Book Appointment