Gastric Bypass Surgery in Alwarpet, Chennai
Bariatric surgery is used to treat overweight patients. Gastric bypass is a type of bariatric surgery and is used in severe cases. You need an expert for performing this surgery. Gastric bypass surgery in Chennai has one of the highest success rates in the country.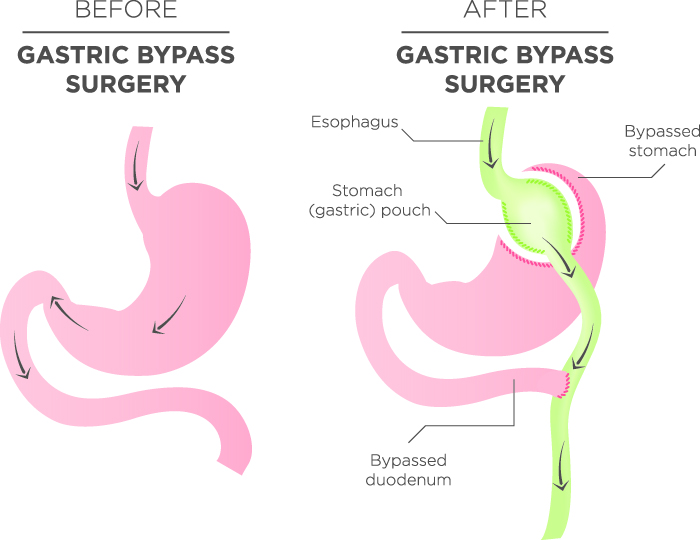 What is gastric bypass?
Gastric bypass is commonly used to get rid of extra fat. This procedure is done with precision. During gastric bypass surgery, the stomach is divided into two parts - the smaller top portion and a larger lower part. The small part acts as a pouch and the food is bypassed through it, without entering the lower part. The small intestine is connected to the small pouch. After the operation, the intestine looks like a Y. Gastric bypass works in two ways - firstly, by reducing the size of the stomach, the amount of food ingested is decreased, thus ensuring fewer calories, and secondly, the food does not enter the other half of the stomach thereby decreasing absorption. It might take more than a month for recovery.
Who qualifies for gastric bypass surgery?
Gastric bypass is for patients who suffer from severe obesity and it's done when all other methods of weight reduction like dieting and exercising have failed. It is recommended to patients who have:
BMI more than 40
Health conditions like hypertension, high blood pressure, joint pain, etc. that require weight loss
Why is gastric bypass conducted?
The main objective of bypass surgery is weight reduction, but apart from obesity, there are several other reasons for gastric bypass. It is used for reducing obesity-related disorders such as:
High cholesterol
High blood pressure
Hypertension
Depression
Heart-related problems like strokes
Type 2 diabetes
Sleep apnea
Cancer
What are the benefits of gastric bypass?
Gastric bypass surgery has a lot of advantages. Some of the health benefits are:
Cures hyperlipidemia
Reverses type 2 diabetes
Relieves joint pain and lower back pain
Reduces excess fat, by about 65% to 80%
Ensures long-lasting weight loss
What are the complications?
Hernia: internal hernia because of rearrangement of muscles and bowel obstruction
Infection: infection due to release of bacteria in the abdomen after the operation
Haemorrhage: during operation, sometimes, the vessels are cut, which might leak after the operation. This is the main reason for hemorrhage after gastric bypass
Dumping syndrome: after consuming dessert or something sweet, food enters the intestine and a lot of gastric fluids is needed to dissolve the sugar. This causes Dumping Syndrome.
Common postoperative problems like dry skin, body aches, fever, flu, sudden changes in mood, vomiting, reaction to anesthesia
Gallstones
Breathing difficulties
Blood clots
When do you need to consult a doctor?
Consulting bariatric surgeons near you is extremely important. They will guide you throughout the process.
Request an appointment at Apollo Spectra Hospitals, Alwarpet, Chennai.
Call 1860 500 2244 to book an appointment.
Conclusion
Obesity is a chronic condition. Gastric bypass is a proven remedy for obesity. It has fewer chances of complications and takes comparatively less time to heal.
What are some of the precautions taken after surgery?
After surgery, it is important to take care of your stomach.
You must not eat anything heavy and restrict your diet to fluids.
Avoid intense exercise.
Do not put pressure on your abdomen.
What should my diet include?
The diet after surgery must include vitamins, proteins, minerals, calcium, etc. Avoid eating anything sweet, spicy and oily.
How much will gastric bypass cost?
Gastric bypass is a costly surgery. Many insurance policies cover these expenses.
What happens if the gastric bypass surgery doesn't work?
Bypass surgery rarely fails, but if you do not follow your doctor's post op instructions, it won't be successful. If the operation fails, then there is always a chance for second surgery.

Book Appointment