Flu Care Treatment in Alwarpet, Chennai
Flu is a common name for influenza, which is a viral infection. The flu virus spreads through air and contact. It affects parts of the respiratory tract, including the nose, throat and lungs. Common symptoms of flu include body ache, malaise and a high fever that can last for several days. Flu is a relatively minor illness that usually resolves on its own. However, it may lead to pneumonia, which is a serious infection. One should consult a qualified fever specialist in Chennai if the symptoms are severe.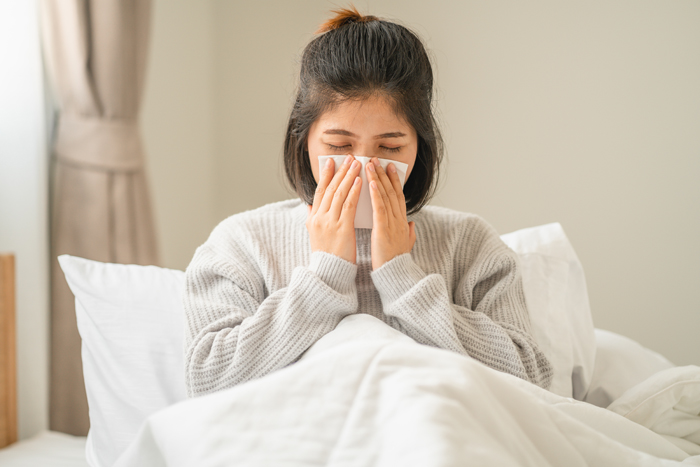 What are the symptoms of flu?
Some symptoms of flu, such as a runny nose, can be confusing as they are like a common cold. However, the onset of flu can be sudden while cold may develop slowly. Following are common symptoms of flu:
High fever
Headache
Pain in joints and muscles
Shortness of breath
Runny nose
Soreness in throat
Pain in eyes
Fatigue
What causes the flu?
Inhalation of influenza virus through air and droplets causes flu. Alternatively, you may transfer the virus to your nose, eyes or mouth by catching the virus while sharing common objects such as a pen, keyboard or a handkerchief with a person who has the flu.
Since influenza viruses undergo frequent mutations, you may not have immunity against the newer strains even if you have antibodies from the past infection. Vaccination at any of the reputed general medicine hospitals in Alwarpet can offer protection against the specific strains of flu viruses and can also reduce the severity of the flu infection.
When do you need to see a doctor for the treatment of the flu?
Most patients who suffer from flu may recover at home with no consultation with a doctor. However, one should be on the lookout for the following emergency signs and visit any of the expert general medicine doctors in Alwarpet for proper antiviral treatment:
Severe muscle pain
Extreme weakness
Seizures
Constant feeling of dizziness
Chest pain
Shortness of breath
Deterioration of existing medical conditions
Following are some of the major emergency symptoms of flu in children:
Dehydration
Bluish tinge on lips
Breathing difficulty
Seizures
You should consult an expert doctor of general medicine in Chennai for the correct diagnosis and treatment of flu if you notice the emergency signs and symptoms.
Request an appointment at Apollo Spectra Hospitals, Alwarpet, Chennai.
Call 1860 500 2244 to book an appointment.
What are the risk factors?
Anyone can get the flu, but some individuals with less immunity or some pre-existing medical conditions belong to the high-risk group. Risk factors include:
Obese individuals
Pregnant women
Mothers (up to 15 days after delivering the child)
Individuals with chronic ailments such as asthma, diabetes, liver disorders or heart diseases
Children below 5 years
Senior citizens over 65 years
Patients of HIV-AIDS
What is the treatment for the flu?
There is no specific treatment for the flu. You can use certain medicines under the guidance of your doctor to get relief from troublesome symptoms. You need to keep yourself hydrated by drinking plenty of fluids and take rest to allow your body's natural immunity to work.
If your symptoms worsen, you should consult a physician for necessary treatment with antiviral medicines. These medicines can speed up the recovery process and may prevent hospitalization following the worsening of symptoms. You may require analgesics and antipyretics to treat the symptoms of flu. If you are experiencing severe symptoms of flu, then you need to consult a physician for flu and common cold treatment in Chennai.
Request an appointment at Apollo Spectra Hospitals, Alwarpet, Chennai.
Call 1860 500 2244 to book an appointment.
Conclusion
Flu is a viral infection that spreads through air and contact. Flu is more common in children and individuals with weak immunity. Although you can recover from the flu with no specific treatment, you may need to consult a fever specialist in Chennai for relief from its symptoms and to prevent complications if the symptoms are severe.
Reference links
https://www.mayoclinic.org/diseases-conditions/flu/diagnosis-treatment/drc-20351725
Can I use an antibiotic for the flu?
Self-medication is dangerous and you should never use medicine without a qualified doctor's recommendation. Antibiotics do not have any role in the treatment of flu, which is a viral infection. Sometimes doctors may recommend antibiotics to treat or prevent secondary bacterial infections. Visit any of the qualified general medicine doctors in Alwarpet for the correct treatment of flu.
Is there any difference between flu and common cold?
Flu is a viral infection with symptoms that differ from those of the common cold. Body ache, fever and weakness are common symptoms of flu while runny nose, sneezing and nasal congestion are symptoms of a cold.
What are the concerns of the flu?
Flu can spread to the lungs and cause serious complications that may lead to hospitalization. Pneumonia is a common complication of flu. It is most common in people with a weak immune system, such as infants, elderly people and expectant mothers.

Book Appointment