Ophthalmology
Ophthalmology is a specialized field of medicine that deals with diagnosis, treatment and prevention of eye disorders. The function of the human eye is to collect visual images and convert them into nerve impulses. Then the optic nerve transmits the signals to the brain to form images. If the eye function and the visual system are affected by any injury, degeneration or infection, it can lead to various eye disorders. To treat specific eye conditions, you will need to consult an expert ophthalmologist. For diagnosis and treatment, visit any of the best ophthalmology hospitals in Chennai.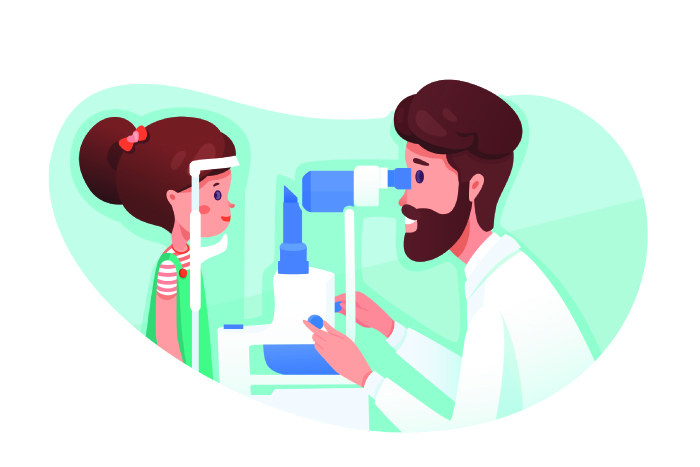 Whom to consult if I have eye problems?
The doctors who diagnose and treat eye problems are known as ophthalmologists. Ophthalmologists examine the eye's interiors for symptoms of systemic or neurological or any kind of diseases and then decide on the treatment for an eye disease. They may prescribe glasses, medicines or surgical procedures. If you are concerned about your eye problems, seek immediate medical attention from one of the best ophthalmologists near you.
What are the causes of eye disorders?
Most of us experience eye problems. Some of them are minor and can be treated at home, while others require an ophthalmologist specialist's care. The leading causes include:
Eye strain due to working for longer hours or sleeping late at night
Infection, allergies or irritation because of chemical variants
Vitamin deficiencies, particularly that of vitamin A
Several disorders, neurological, vascular and inflammatory, can affect vision
People with diabetes are more prone to eye problems like diabetic retinopathy, glaucoma, cataract and macular edema
Aging and unhealthy diet
Some of the eye diseases are attributed to hereditary factors
When do you need to consult an ophthalmologist?
Suppose you are experiencing any chronic vision problems, you can have any signs like excessive tearing, blockage or double vision, eye floaters, etc. It is also recommended that people with diabetes and high blood pressure go for regular eye checkups. For eye exams and treatment, consult the best ophthalmologist in Chennai.
Request an appointment at Apollo Spectra Hospitals, MRC Nagar, Chennai.
Call 1860 500 2244 to book an appointment.
What are the subspecialties of ophthalmology? What conditions do they treat?
There are some subspecialties of ophthalmology that focus on certain parts of the eyes. Some of them include:
Cornea and external diseases: This subspecialty deals with the disorders of the cornea, including Fuch's dystrophy, keratoconus, corneal trauma, conjunctiva and its tumors, sclera and the eyelids.
Retina: A retina specialist diagnoses retinal diseases like macular degeneration, diabetic retinopathy and retinal detachment.
Glaucoma: Glaucoma affects the optic nerve connecting the eye and the brain. Glaucoma specialists treat if there is any destruction of the optic nerve that increases intraocular pressure. Oculoplastic: If there is any damage to the eyelids, bones and other structures around the eyeball, oculoplastic specialists repair them and bring them back to normal positions.
Neurology: They focus on treating vision problems if there is a tear in the eye nerves due to interaction with the brain, nerves, muscles, double vision and abnormal eye movements.
What are the different procedures performed by an ophthalmologist?
Most of the treatments are outpatient-based. In contrast, some of the specific eye disorders require staying at a hospital. Usually, the treatment options vary from prescribing eyeglasses to correct vision to surgical and laser therapies for different conditions.
LASIK surgery: Laser-assisted in situ keratomileusis is a type of refractive surgery performed to correct vision problems. It may be myopia (nearsightedness) or hyperopia (farsightedness).
Cataract surgery: It is performed to remove the impaired lens of your eye, and in most cases, they replace it with an artificial lens. Specialists may use either of the types to perform phacoemulsification and extracapsular extraction.
Laser trabeculoplasty: It is used to treat open-angle glaucoma by decreasing the high intraocular pressure.
Implantable contact lenses (ICL): This is an excellent alternative for laser surgery for people with thin or abnormal corneas, keratoconus and dry eye. They insert an ICL through a small micro-incision behind the iris.
Squint: Also known as strabismus. The surgery is performed to correct the eye muscles' misalignment and restore binocular vision.
Conclusion
The aging of the human eye or an eye infected with a disease can lead to a series of changes in the organ's visual performance. Ophthalmologists help prevent and stall diseases or perform eye surgery if needed. Choose the best ophthalmologist in Chennai for diagnosis and treatment.
References:
https://www.jrcptb.org.uk/specialties/medical-ophthalmology
https://www.aao.org/eye-health/tips-prevention/ophthalmologists
https://www.medicalnewstoday.com/articles/326753#procedures
https://www.news-medical.net/health/Ophthalmology.aspx
https://www.news-medical.net/health/Subspecialties-of-Ophthalmology.aspx
How do you maintain healthy vision?
First, having a balanced diet helps you maintain a healthy weight and have less risk of diabetes and associated disorders. Second, use protective wear and reduce screen time. And finally, get regular eye screenings at an ophthalmology hospital in Chennai.
Can congenital blindness be treated?
Yes, it is possible to treat congenital eye disorders (present at birth) like blindness and glaucoma by gene therapy.
What are the leading causes of blindness?
A cataract is the leading cause of blindness, followed by severe visual impairment caused by glaucoma and refractive error.

Book Appointment