Open Reduction Internal Fixation Procedure in MRC Nagar, Chennai
Open reduction internal fixation (ORIF) is a surgical procedure to fix severely fractured bones. Doctors cannot fix these bones with a cast or splint. During this surgery, a doctor will use metal plates, rods, screws and pins to hold the bones in place. If you think you need open reduction internal fixation, do consider consulting an orthopedic surgeon near you.
What is ORIF?
Open reduction internal fixation can help align severely damaged bones due to fracture that has displaced or made them unstable. The procedure refers to the physical realignment of bones so that they do not grow abnormally. It is different from closed reduction because in that case, doctors realign bones without exposing them.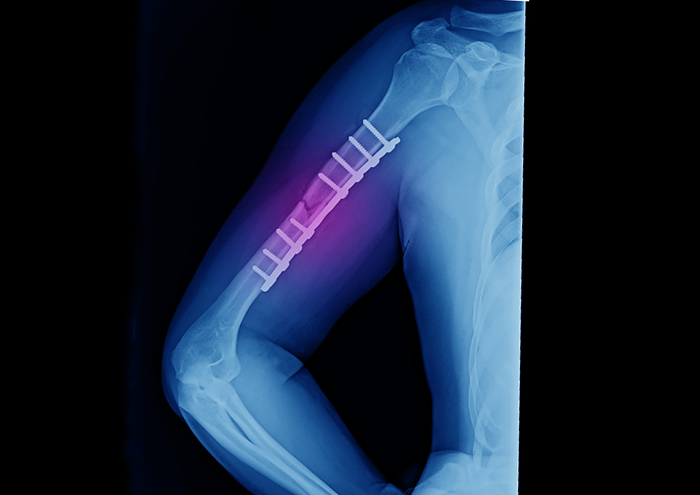 Who qualifies for ORIF?
People with severe fractures that cause significant damage like misalignment
People who have had a cast, splint or closed reduction surgery but have not achieved results
People who don't have a medical history of conditions, which can prevent smooth recovery, like blood clotting
Request an appointment at Apollo Spectra Hospitals, MRC Nagar, Chennai.
Call 1860 500 2244 to book an appointment.
Why is ORIF conducted?
Most people who fracture their bones do not need an open reduction internal fixation. But you may need it if you suffer from the following:
If a bone breaks at several places
If there is a misalignment in bones
If a bone sticks out through the surface of the skin
If a bone is unstable
If you think you need ORIF, do consult an orthopedic surgeon near you.
What are the types of ORIF?
Before the surgery, you may have to go through a few blood tests, MRI scans, CT scans and other physical exams.
An anesthesiologist will give you general anesthesia. The surgeon will then cut the skin to realign your bones properly.
He/she will then use metal pins, plates, rods and screws to hold the affected bone in place. It all depends on the location and type of the fracture. After this, the surgeon will close the incisions with the help of bandages. You may have to use a cast or splint for a few days.
What are the benefits?
The procedure can help stabilize damaged bones. It can also help in relieving pain and restore normal movement.
What are the risks?
Open reduction internal fixation has a high success rate. But there are some risks such as:
Bleeding
Bacterial infection
Damage to nerves or blood vessels
Reduced mobility
Blood clotting
Arthritis
Problems due to anesthesia
Damage to tendon or ligament
Incomplete bone healing
Conclusion
There are a lot of instances in which you could need an open reduction internal fixation. You may consider talking to your orthopedic surgeon about this.
If you decide to get an ORIF, you will have to consider the benefits and risks carefully. You may also have to reschedule things at work and home for the time you need to recover.
Are there people who are more likely to have complications from ORIF?
Some factors can raise the possibility of complications. They are:
Smoking
Diabetes
Obesity
Liver disease
History of blood clots
Rheumatoid arthritis
How can I recover smoothly?
You can recover by:
Taking pain medication properly
Keeping your incisions clean
Applying ice to reduce swelling and keep the incision clean
Not applying pressure on your limb
Getting physical therapy
After the surgery, you will not be able to walk for a while. You will have to use crutches or a knee scooter. Talk to your doctor about when you can start using your ankle. If you think that a cast or splint is not helping you, you may consider consulting an orthopedic surgeon in Chennai.

Book Appointment