Flu Care Treatment in MRC Nagar, Chennai
Flu is a respiratory illness. It is also known as influenza. It is quite common but can be harmful. It spreads easily and is mostly self-diagnosable. Good medical help is required during this time. Usually, general medicine hospitals near you can treat the flu.
What is the flu?
Flu is an infection affecting the lungs and other respiratory organs. Its severity depends on its cause and it can vary from being mild to severe. Millions of people suffer from it and get cured. If you think that your flu is severe, then you can consult general medicine doctors near you.
Flu is quite common during the flu season in India during winter (between January to March) and monsoon (from August to October).
Flu is sometimes confused with pneumonia, but they are two different diseases having different treatments. They share common symptoms though.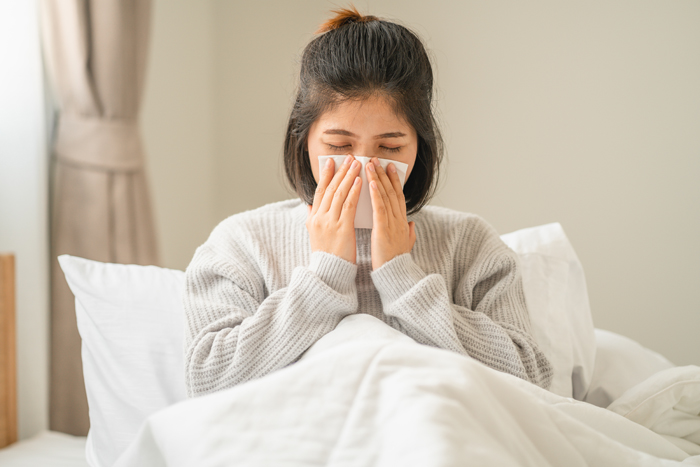 What are the symptoms of flu?
Runny or stuffy nose
Dry cough
Headache
Itchiness and pain in the throat
Vomiting
Chills and fever
Fatigue
Eye pain
Breathing difficulty
Sore throat
Weakness
Pain in the chest
What causes the flu?
Flu is transmitted through droplets when you talk, sneeze or cough. It is caused by the influenza virus. Some of the other reasons are:
Change in season - usually affects children and elders above the age of 60 years.
Weakened immune system - Due to diseases or by birth, some people have weak immune systems and this makes them more vulnerable to catching the flu.
Obesity - People who are obese, especially if their BMI is over 40, have a higher risk of the flu
Asthma and bronchitis
When do you need to see a doctor?
If you see the following flu symptoms, visit a doctor:
Chills and shivering
Difficulty in breathing
Cough
Severe chest pain
Fatigue
Fever
Request an appointment at Apollo Spectra Hospitals, MRC Nagar, Chennai.
Call 1860 500 2244 to book an appointment.
What are the risk factors?
Sickle cell anemia or severe anaemia
Asthma
Cystic fibrosis
Bronchitis
Sinusitis
Heart ailments
Liver disorders
HIV/AIDS
How can you prevent the flu?
Here are a few preventive measures:
Practice good hygiene
Keep a safe distance from an infected person
Quit smoking
Take supplements to strengthen your immune system
Eat a balanced diet and exercise
Consume a good amount of vitamin C
Take the flu vaccine
How is the flu treated?
It all depends on the severity of the condition. For immediate relief from nasal congestion and pain, nasal spray and light medicines are prescribed.
In some cases, doctors also suggest combinations of different medicines with antibiotics. Some of the well-known medicines for treating flu include Zanamivir, Baloxavir, Peramivir and Tamiflu. Consult your doctor before taking any medicine.
Conclusion
Flu attacks the respiratory tract and organs of a person. You need to take care of yourself during the flu. Get ample rest, increase your fluid intake and take other precautionary measures.
What is the recovery period?
If you have the common flu, then you can be cured within 4 to 7 days. But in case of severe or chronic flu, it might take longer.
Who can take the flu vaccine?
The flu vaccine is advised for everyone who is above six months. Try to take the vaccine every year to protect yourself and the people near you.
Are there any major complications after the flu?
In most cases, there isn't any serious complication, but if you have suffered from chronic flu, then you might experience weakness, sinus infection, etc.

Book Appointment