Pediatric Vision Care Treatment in MRC Nagar, Chennai
Many young children have to wear thick eye glasses. Do not neglect your child's eye care if you are keen to prevent such vision correction measures. Visit an ophthalmology hospital in Chennai with your son/daughter when you detect vision problems. Get his/her eyes examined regularly so that the problems get resolved quickly.
What is pediatric vision care?
Even a newborn can have eye defects that need to be corrected at the earliest. Ophthalmology doctors in MRC Nagar are eye specialists capable of treating all types of eye problems. A pediatric ophthalmologist checks your child's eyes and advises the next step of action. While an eye examination is usually enough for most children, a specialist eye surgeon may recommend surgical procedure(s), if deemed necessary. You would have to take extra care of the diet of your child and assist him/her during eye exercises to strengthen the associated muscles. Family history of eye problems is likely to affect your child too. Make sure that you take all precautions as advised by ophthalmology doctors in Chennai both before and after a surgery.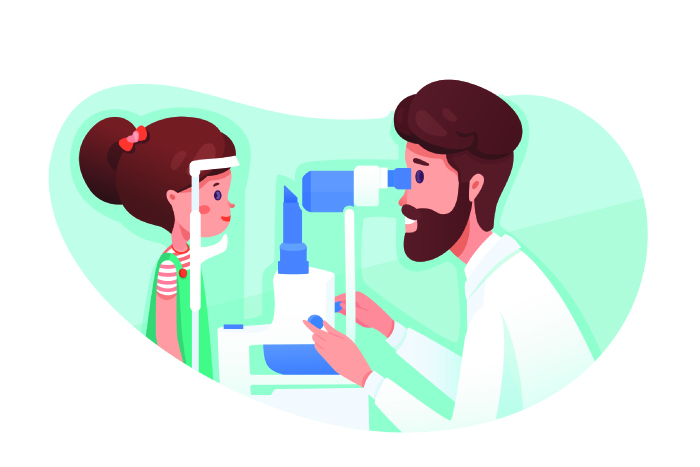 Why is eye surgery needed in children?
Strabismus Treatment - Surgery is performed to rectify alignment of the eyes in case of a squint. It is an outpatient procedure that is relatively safe and highly effective. Have it done by an experienced eye surgeon at a squint hospital in MRC Nagar to ensure a smooth and hassle-free procedure.
Cataract Removal - Your child may be affected with cataracts right from birth. The only way to eliminate it and ensure eye health would be to opt for cataract treatment. This is a surgical procedure that requires precision and expertise.
Subepithelial Keratectomy - Your doctor may recommend this procedure if your child has difficulty reading or focusing on distant objects. Diagnosed as high myopia, you may have to change the power of eye glasses frequently as your child continues to grow. A sure-shot way to reduce the extent of the problem and get a long-term solution would be to have a laser surgery done that can also correct amblyopia or lazy eye.
Trabeculotomy - Pediatric glaucoma may be treated with surgery by a glaucoma specialist in MRC Nagar. The intraocular pressure is reduced by draining the fluid. Laser surgery may also be used to keep vision loss in check
ICL Surgery - You may decide to go for an ICL lens implantation for your child if he/she has high myopia ranging from -3.0 D to -14.5 D. An ICL Surgery specialist in Chennai will tell you about the necessity of wearing eye glasses afterward.
Diabetic Retinopathy - School children are being increasingly affected by diabetic retinopathy at present. Visit a Diabetic Retinopathy hospital in MRC Nagar at the earliest to treat this.
Request an appointment at Apollo Spectra Hospitals, MRC Nagar, Chennai.
Call 1860 500 2244 to book an appointment.
How does your child benefit from visual care?
Children have their own health problems. You need to take care of their eyes during the formative years. Visiting an ophthalmology hospital in MRC Nagar will enable you to learn about any eye problem inherited by your child.
The eye specialist will examine your child for a host of common childhood eye problems that may be present from birth or may develop later. The eye health history will be noted by the doctor too with suggestions about the right treatment.
Unusual behavior should be noted by you - i.e. if your child complains about pain in the eye or trouble reading from a distance. Such instances must be shared with ophthalmology doctors in Chennai.
What are the complications from eye surgeries for children?
Swelling of the eyelids
Watery eyes
Bleeding
Unresolved problems
Recurrence of the condition
Double vision
Infections
Scarring of the cornea
Partial or total loss of vision
Conclusion
Any eye problem that may be present in your child can be diagnosed by an ophthalmologist and an effort must be made to correct it at the earliest. Many eye disorders can need surgical intervention to attain visual acuity. Monitor your child's eye health.
References
https://www.webmd.com/eye-health/features/your-childs-vision
https://www.aao.org/eye-health/diseases/strabismus-in-children
https://www.apollospectra.com/speciality/ophthalmology/squint-surgery/
https://www.webmd.com/eye-health/cataracts/cataracts-in-babies-and-children
How often should my child have eyes tested?
There is no hard and fast rule specifying the time but take your doctor's advice for a checkup at least once in two years.
What should I do when my child is diagnosed with congenital cataract?
Your child may be born with cataracts or develop it later during infancy. You should not delay the treatment and have the cataract removed totally by opting for a surgical procedure.
Why did the doctor advise ICL Surgery for my child?
Your child can be free of heavy eye glasses after undergoing the procedure successfully. Mild to severe forms of nearsightedness can be corrected by this surgery.

Book Appointment