Tummy Tuck Surgery in MRC Nagar, Chennai
If a regular workout or dieting isn't giving you the taut tummy you want, you can consider a tummy tuck. The surgery can flatten the abdomen. It removes additional fat and skin to tighten the muscles in the abdominal wall.
A tummy tuck is not the same as liposuction. You can choose to get liposuction with a tummy tuck. It is a major surgery. So, if you are considering it and want to flatten your tummy,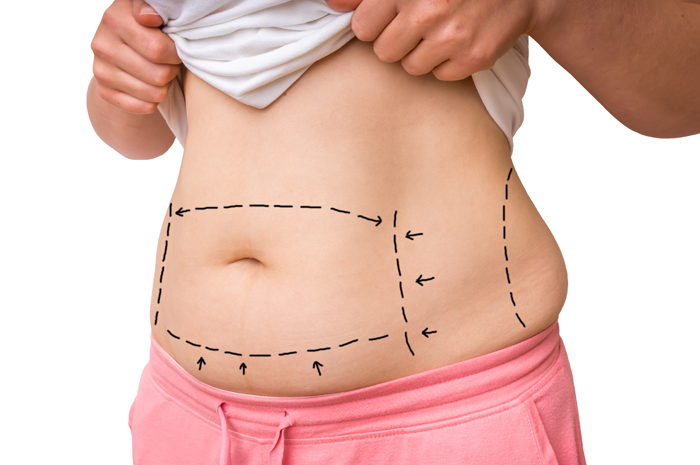 request an appointment at Apollo Spectra Hospitals, MRC Nagar, Chennai.
Call 1860 500 2244 to book an appointment.
How is tummy tuck performed?
Based on the results you want, the surgery can take 1-5 hours. It is mainly an outpatient procedure.
You are given general anesthesia to perform the procedure. Three processes are used for performing a tummy tuck procedure at the best cosmetic hospital in Chennai.
Complete Abdominoplasty: If you need maximum correction, this is the option. An incision is made around your bikini line and the surgeon shapes the muscle and skin as required. With this procedure, you will have an incision. The doctors may or may not add drainage tubes under your skin.
Mini or Partial Abdominoplasty: This process is done for shorter incisions and is performed on people having less sagging skin. The skin is separated between the belly button and the line of the incision. The process usually takes about 1-2 hours.
Circumferential Abdominoplasty: This surgery is performed in the back area. The procedure enables removal of fat and skin from the back and hip area that enhances the shape of your body.
After your tummy tuck surgery in MCR Nagar, the incision site is stitched and bandaged. But make sure that you follow all the instructions given by your doctor.
Who qualifies for a tummy tuck?
Significant changes in your weight or pregnancy can stretch out the skin surrounding the stomach. In that case, you can get tummy tuck surgery in Chennai to achieve a contoured and flat midsection.
It is suitable for men as well as women, who are in good health. So, it is a good option for anyone who has excess fat around their belly area.
But, you might want to reconsider this procedure if,
Your body mass index is more than 30
You have a serious heart condition
You are thinking of getting pregnant
You have been trying to lose weight
Why is a tummy tuck performed?
There are many reasons why you may have excess fat, weakened connective tissue or poor elasticity of the skin in your abdomen. These include:
Pregnancy
Considerable changes in weight
Aging
Abdominal surgery, like a C-section
When you get a tummy tuck from the best cosmetology doctor in MRC Nagar, it can remove excess fat and skin and tighten weak fascia. The procedure can remove excess skin and stretch marks too in the lower abdomen.
If you are considering the procedure to lose a considerable amount of weight, seek medical consultation.
What are the benefits of a tummy tuck?
The first benefit of tummy tuck is that it gives you a narrower waistline and flatter abdomen.
Weight loss can leave your body with loose skin and a tummy tuck can remove it.
It can also eliminate stretch marks that you can get after pregnancy or weight gain.
The procedure can minimize the risk of some medical conditions.
It can relieve urinary incontinence.
What are the risks?
Poor wound healing: At times, areas along the incision line might heal poorly or start separating. To prevent infection, you can be given antibiotics.
Fluid accumulation beneath the skin: A drainage tube placed after the surgery helps in reducing the risk of excess fluid. A doctor at the best cosmetic hospital in Chennai can also remove fluid after the surgery with the help of a syringe and needle.
Tissue death or damage: When a tummy tuck surgery is performed, fatty tissue deep inside the skin in the abdominal area might die or get damaged. Smoking might increase the risk. Based on the size of the area, tissue may heal on its own or need a surgical touch-up process.
Sources
https://www.ncbi.nlm.nih.gov/pmc/articles/PMC5621815/
https://www.ncbi.nlm.nih.gov/pmc/articles/PMC3385406/
What is the difference between liposuction and tummy tuck?
Tummy tuck reconstructs the muscles underneath and removes excess skin, but liposuction just removes excess fat. A liposuction procedure won't reduce or remove loose, excess and hanging skin.
How long does a tummy tuck take?
You have to reach the hospital at least 3 hours before the surgery. The surgery takes about 3 hours.
You might experience mild to moderate discomfort in the days following the surgery. However, this can be managed.

Book Appointment