Orthopedic-joint Replacement
Overview of Joint Replacement
Joint Replacement is a surgical procedure used to remove and replace parts of a damaged or arthritic joint with a plastic, metal, or ceramic device known as a prosthesis. The prosthesis has been created to replicate healthy joint movement. Knee and hip replacements are the most common joint replacement surgeries performed. However, replacement surgery can be performed on other joints too, such as the wrist, ankle, elbow, and shoulder.
How is Joint Replacement Done?
Joint replacement might take a few hours in an orthopedic hospital in Chennai. During the total knee or total hip replacement surgery in MRC Nagar, the damaged bone or cartilage is removed from the joint and then replaced with prosthetic components.
For instance, in a hip affected by arthritis, the damaged ball will be replaced with a metal ball that is attached to a metal stem. This metal ball and stem apparatus is then fitted into the femur. The orthopedic doctor in Chennai will then implant a plastic socket into the pelvis to replace the damaged socket.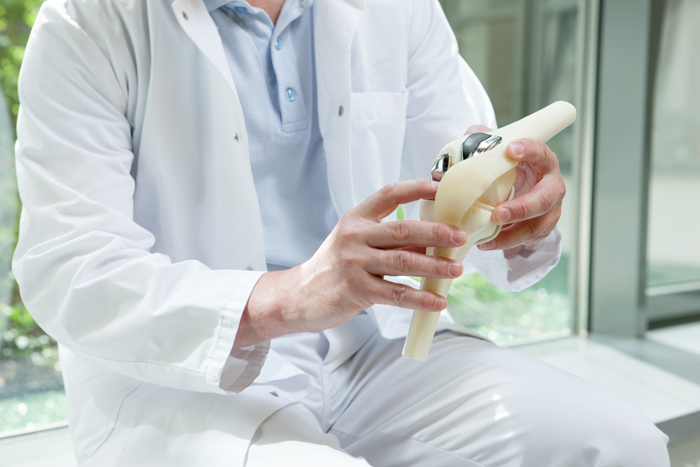 Who Qualifies for Joint Replacement Surgery?
Anyone suffering from joint pain due to cartilage damage, either from a fracture, arthritis, or some other condition, can go for joint replacement surgery.
When non-surgical treatments such as physical therapy, medications, activity modifications, don't relieve your disability or pain, you can consult the best orthopedic hospitals in MRC Nagar for a joint replacement.
So, you should consider joint replacement surgery when you have symptoms, such as -
Stiffness
Excessive pain
Swelling
Limping
Problems in performing everyday activities
Poor range of motion
Why is Joint Replacement Surgery Performed?
Joint replacement in an orthopedic hospital in Chennai is often considered to be the last resort treatment. Usually, doctors tell patients to wait as long as possible for joint replacement.
The surgical procedure is performed to replace a bone or cartilage damaged due to arthritis or other problems. It is primarily recommended for patients with advanced-end stage joint issues who have already tried non-surgical treatments and yet experience disabling pain and functional decline.
Joint replacement is an effective surgery when performed at the right time. If you want to get a joint replacement surgery, consult an orthopedic surgeon near you without any delay.
Request an appointment at Apollo Spectra Hospital, MRC Nagar, Chennai.
Call 1860 500 2244 to book an appointment.
Types of Joint Replacement Surgery
There are different types of joint replacement surgeries. Let's take a look at them.
Total Joint Replacement: This is a procedure that removes all or part of the damaged joint and replaces it with artificial implants.
Hip Replacement Surgery: Hip replacement is performed as a semi or total replacement. But a total hip replacement surgery consists of replacing the femoral and the acetabulum head.
Shoulder Replacement: It can stabilize the shoulder joint and can restore pain-free function and motion. In this, the position of the socket and ball in the joint are substituted and replaced with artificial parts.
Ankle Replacement: This joint replacement is a treatment of choice for people who need arthroplasty. It restores a range of motion.
Finger Joint Replacement: This is a quick procedure of just 30 minutes. However, you need several months of therapy after the surgery.
What are the Benefits of Joint Replacement Surgery?
With a new joint, you are going to hurt a lot less. You might even be pain-free. Based on your age, you might be asked to use the joint normally. It will enable you to move it in a complete range of motion. So, all everyday tasks, such as household chores or walking, become much easier.
In certain cases, you might even be able to go back to playing low-impact sports, such as cycling or golf, which was impossible prior to the surgery.
What are the Risks of Joint Replacement Surgery?
Simply having severe arthritis that warrants a joint replacement surgery does not necessarily mean it is safe in all instances. There are a few conditions that can make joint replacement riskier. Here are a few -
Obesity
Age above 90
Heart, kidney, or lung disease
Bone density
Like any other procedure, it can lead to complications. Bacteria can lead to infection. Joint replacement surgery might change the blood flow in the deep veins of the lower body. Due to this, some people may develop deep vein clots.
Sources
https://www.ncbi.nlm.nih.gov/books/NBK379628/
https://www.niams.nih.gov/health-topics/joint-replacement-surgery#tab-risk
How long do artificial joints last?
It usually lasts for 10-15 years. But rare complications that require re-operation might occur sooner.

Book Appointment