Gastric Bypass Surgery in MRC Nagar, Chennai
Most often, diet plans and exercises don't give you any fruitful results. Aren't you tired of having those extra pounds? Worried that you won't be able to get rid of the excess fat?
Well, bariatric gastric bypass surgery is the best option to get rid of the excess fat if all other means fail. Consult the best gastric bypass doctors near you. Gastric bypass surgery will help you reduce your food intake capacity eventually helping you lose weight.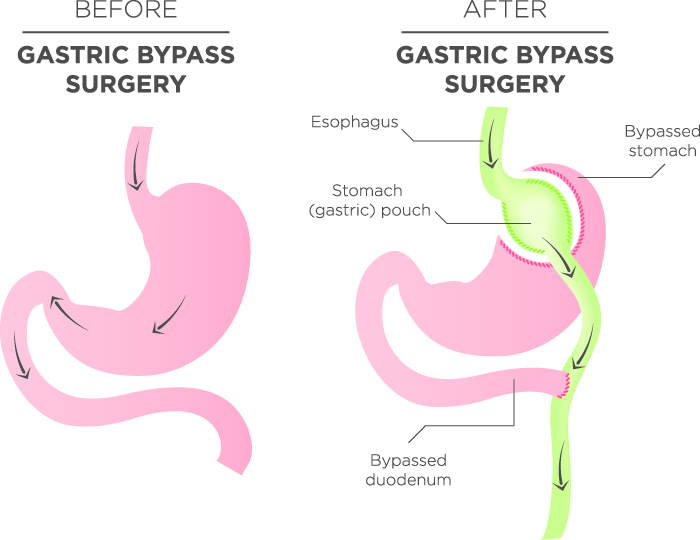 Overview of gastric bypass surgery
Gastric bypass surgery is a type of bariatrics surgery that involves a surgical procedure to make changes in your digestive system that helps you lose weight. Gastric bypass surgery is recommended when diet and exercises give no positive result and your condition is accompanied by other health issues.
What is gastric bypass surgery?
Bariatric surgeries are a group of surgeries for weight loss. These surgeries involve changes to be made in the digestive system which helps the patients to lose weight. Bariatric surgeries are performed in such a way that their result will either limit the food intake of the patient or it will reduce the absorption of nutrients by the body. In both these situations, weight loss is the ultimate goal.
Gastric bypass surgery is one of the most common bariatric surgeries performed. This weight loss surgery is preferred by the surgeons as it has fewer post-surgical complications as compared to the other bariatric surgeries. It is suggestive for people who have not found any positive results from dieting and exercising.
Who needs gastric bypass surgery?
Gastric bypass surgery in Chennai is advisable for people with
BMI equal to or greater than 40 (for extreme obesity)
BMI 35-39.9 (obese) in conjugation with conditions like diabetes, hypertension, sleep apnea
BMI 30-34 along with other health issues
How is gastric bypass surgery conducted?
This whole procedure is performed under general anesthesia. The surgery is performed in two steps -
Step 1: The first step involves changes in the stomach. The stomach is divided into 2 sections using staples: a small upper section (pouch) and the larger lower section. The pouch is where the food will be stored with a reduced capacity of just 28grams/1 ounce thereby reducing the food intake capacity and helping in weight loss.
Step 2: The second step involves connecting a small part of the small intestine to the pouch of the stomach through a small hole. This way the food from the stomach will be passed to the small intestine via this hole with fewer calories getting absorbed in this process.
When to see a doctor?
Visiting a gastric bypass doctor becomes necessary once you lose all hopes of losing weight from other means. If you have tried all methods for weight loss and nothing has worked for you and your BMI is continuously increasing, then this surgery is a must. Also, if your weight gain problem is associated with some other underlying health issues, then gastric bypass surgery is the only viable option.
Request an appointment at Apollo Spectra Hospitals, MRC Nagar, Chennai
Call 1860 500 2244 to book an appointment.
How to prepare for gastric bypass surgery?
It is no regular surgical procedure where you get admitted to a hospital just a few hours before the procedure. In gastric surgery, you need to have a pre-surgical prep before going for the surgery.
It usually lasts 6 months and includes three typical things. You can know more about the process from any gastric bypass doctor in Chennai.
Maintain a healthy lifestyle change.
Reduce your regular calorie intake to be followed after the surgery as well.
Include workout sessions to be followed every day.
Benefits of gastric bypass surgery
A gastric bypass specialist aims to provide the maximum benefits to the patient. They help the patient to cope with many life-threatening diseases by helping them reduce weight with gastric bypass surgery. Here is a list of benefits that you can get with a gastric bypass specialist -
Get a healthy life and a better lifestyle.
Say goodbye to diabetes.
Stay away from any kind of fatty liver changes.
Reduced risk of heart diseases.
Positive outlook towards life with a newly gained confidence from weight loss.
No more high blood pressure issues.
Risks or Complications associated with gastric bypass
Since the entire process works with the bypassing of the major gastrointestinal organ "stomach", it surely possesses multiple long and short-term complications. But to avoid most of the issues you must visit a good hospital for gastric bypass surgery in MRC Nagar. Some of the most common associated risks are -
Bleeding
Hernia
Malnutrition
Nausea
Vomiting
Bowel obstruction
Ulcerative colitis
Gastrointestinal problems
Gall stone
Conclusion
Well, if you are one of those who wish to lose weight but nothing seems to work out then gastric bypass surgery is the last resort. Surgical intervention has its pros and cons but losing weight with this method can be helpful. But before you plan to go for such a procedure you must consult your dietician and physician as well. You must be ready for all the consequences postoperative but once you pass this phase you will see a huge transformation.
References
www.mayoclinic.org/tests-procedures/bariatric-surgery/about/pac-20394258
How much does gastric bypass surgery costs?
Gastric bypass surgery may cost you around 2.5 to 5 lakhs. The final cost depends upon the surgeon and the hospital you choose.
What are the other types of bariatric surgeries?
The other common types of bariatric surgeries are
Sleeve gastrectomy
Intragastric balloon
Endoscopic sleeve gastroplasty
Biliopancreatic diversion with duodenal switch
How can I deal with the loose skin post gastric bypass surgery?
Here are a few tips
Diet plan starting initially with a liquid diet plan followed by pureed diet and then proceeding with a soft diet. This may continue for a few months.
Regular walking
Avoid sitting for long
Take the stairs
Stretching exercises

Book Appointment