Hip Replacement surgery in MRC Nagar, Chennai
Overview of hip replacement
Hip Replacement is a surgical procedure performed by an orthopedic doctor, to replace a portion of the hip, in case of extreme pain, injury, broken hip bones or hip arthritis. It is one of the most successful joint replacement surgical techniques in orthopedics.
It is also called hip arthroplasty. In this surgery, the damaged bone or cartilage is removed and replaced by prosthetic components. After the procedure is done it relieves the pain and you can resume your normal day-to-day activities. Your doctor either recommends minimally invasive hip replacement surgery or decides to follow a traditional approach depending on your condition. In the case of a minimally invasive procedure, one or two shorter incisions are made for access.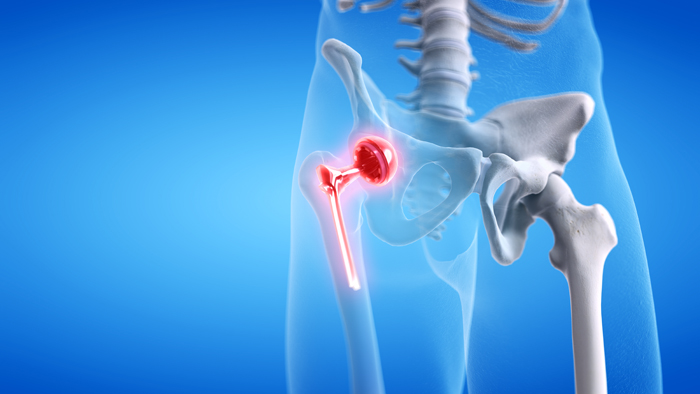 What do we need to know about the procedure?
In this surgical procedure, a 10- to 12-inch incision is made on the side of your hip, which helps the doctor to fully view the area. The damaged femoral (thigh bone) head is removed and replaced with a metal stem. Additionally, a metal or ceramic ball is placed on the upper part where the damaged femoral head was removed.
The damaged Acetabulum (socket of the hip bone) is removed and replaced with a metal socket. To hold the socket, a screw or cement is used. A plastic, ceramic or metal spacer is placed between the new ball and the socket to complete the procedure. In a minimally invasive procedure, the surgical team operates in a similar manner, but the only difference is that the incisions made are comparatively smaller. Although the removal and replacements are done by specially designed instruments that can access through these small incisions.
If you need hip replacement surgery, search for an orthopedic doctor near you or an orthopedic hospital near you.
Who Qualifies for Hip Replacement?
If you are suffering from any of the below problems, you are eligible to go through this procedure-
When you are experiencing severe pain in the hip during normal day-to-day movements such as walking, exercising or bending.
Stiffness in the hip region that prevents you from moving or lifting your legs normally
Continuous pain without any reason
No relief from pain even after medicines and physical therapy
Why Is Hip Replacement Surgery conducted?
The reason as to why orthopedic doctor recommends hip replacement surgery are:
If you are suffering from osteoarthritis, which is a wear and tear type of arthritis.
In the case of rheumatoid arthritis (Inflammation and thickening of the synovial membrane)
Sometimes it is conducted in case of childhood hip disease (hip problems in infants or children).
In case of hip dislocation and fracture.
Different Types of hip replacement
Below are the types of hip replacement surgery:
Total hip replacement (Total hip arthroplasty)
Partial hip replacement (Hemiarthroplasty)
Hip resurfacing
Benefits of hip replacement
Orthopedic doctors recommend hip replacement surgery if you are facing extreme pain in the hip region. The significant benefits of the same are:
Improved mobility and function
It helps in relieving the extreme pain you were suffering from earlier
You will be able to walk, climb stairs and maintain an active lifestyle
The surgery is proven to have a high success rate
Greater strength and coordination of the torso and leg
Request an appointment at Apollo Spectra Hospitals, MRC Nagar, Chennai
Call 1860 500 2244 to book an appointment
Risks or Complications associated with hip replacement surgery
When performed by the experts, complications are rare and hip replacement surgery also has quite a high success rate. Yet, every patient still must be aware of the possible risks or complications. They are as follows:
Blood clots in the leg or pelvis
Infection
Fracture
Weakness after the surgery
Stiffness or instability of the joint
Damage to nerves and blood vessels
Stiffness or instability of the joint
Need for additional surgeries due to any complications
Hip dislocation during or after recovery
References
https://www.hey.nhs.uk/patient-leaflet/total-hip-replacement-benefits-risks-outcome/
https://orthoinfo.aaos.org/en/treatment/minimally-invasive-total-hip-replacement/
https://www.hopkinsmedicine.org/health/treatment-tests-and-therapies/hip-replacement-surgery#:~:text=Hip%20replacement%20
How long does a hip replacement surgery last?
It takes one to one and a half hours to complete the surgery. The stay time for patients is at least 2 days post-surgery for proper recovery.
Can both my hips be replaced at the same time?
Yes, you can have your both hips replaced at the same time if there is a need or recommended by your doctor. But you may have to stage the surgeries in some special cases.
How long do hip implants last?
Generally the hip implants last from 10 to 20 years, or in some cases even longer than that. This can also differ on the age of the patient or the types of implants.
How soon can I drive after surgery?
You can resume driving after at least six weeks of the surgery.

Book Appointment