Knee Replacement Surgery in MRC Nagar, Chennai
What is Knee Replacement?
Knee replacement is a procedure of replacing an ailing or injured knee with a prosthesis or artificial joint. This prosthesis is developed out of plastics, polymers, and metal alloys. It can mimic the function of the knee.
The surgery can be considered for someone having severe knee injury or arthritis. This procedure to remove the entire old knee and replace it with a prosthesis takes less than 2 hours. However, it might take you a few months to recover completely.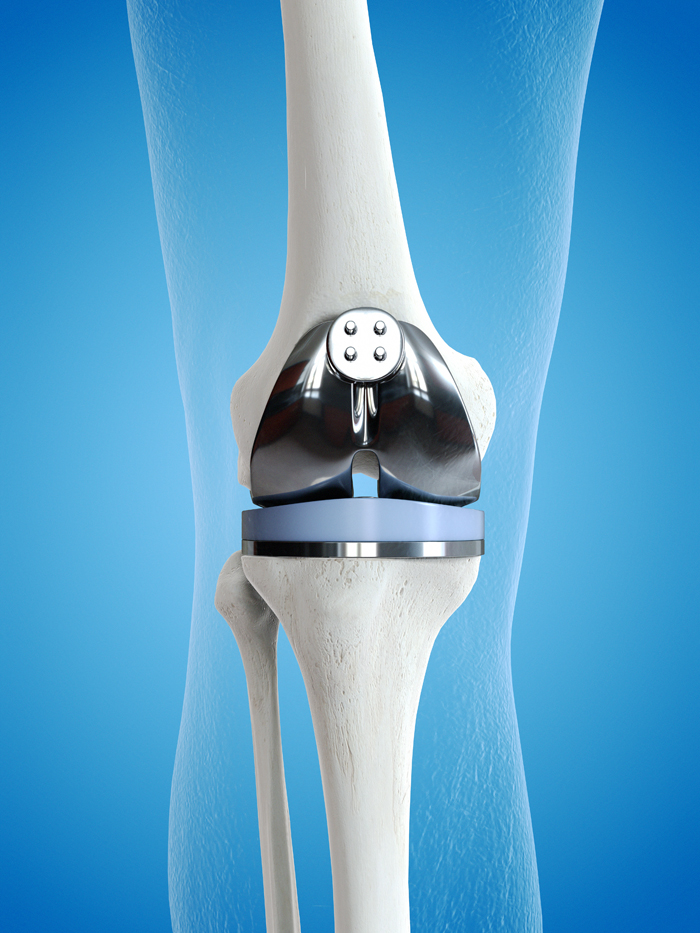 About Knee Replacement Surgery
In knee replacement surgery, a diseased knee joint is replaced with artificial metal. During the surgery, the end of the femur bone is taken out to be replaced with a metal shell. Thereafter, the tibia or end of the lower leg bone is taken out and substituted with a channeled plastic piece using metal steam. Based on the condition of the kneecap portion of your knee joint, a plastic button might be added under the kneecap surface. These artificial elements used for total knee replacement surgery in Chennai are prostheses.
Both sides of the knee joint are stabilized by the posterior cruciate ligament. This prevents the lower leg from sliding backwards in relation to the thigh bone. In total knee replacement surgery in MRC Nagar, a polyethylene post is used to replace the ligament.
Who Qualifies for Knee Replacement Surgery?
Anyone who feels pain, instability, loss of function, or stiffness in the knee affecting their daily life activities can undergo a knee replacement surgery. A knee replacement done through total knee replacement surgeons in Chennai is not the only option for you if you have knee arthritis. However, it might be worth considering in case the knee is damaged by arthritis or disability.
Unfortunately, a few people might not be suitable for this surgery, even if they have severe arthritis. This is primarily because
The thigh muscles are weak and might not be able to support the new joint.
There are long-lasting or deep open sores in the skin below the knee that increase the risk of infection.
Why is Knee Replacement Surgery Conducted?
One of the most common reasons for knee replacement surgery is relieving severe pain due to osteoarthritis. So, people who require knee replacement usually have trouble walking, sitting down or getting up from chairs, climbing stairs. Some people get it done and put their knee pain at rest.
If you have severe arthritis and want to get a knee replacement, consult an orthopaedic surgeon near you at the earliest.
Request an appointment at Apollo Spectra Hospitals, MRC Nagar, Chennai.
Call 1860 500 2244 to book an appointment.
What are the Benefits of Knee Replacement Surgery?
Knee replacement surgery from the best orthopedic hospital in MRC Nagar comes with several benefits. Let's take a look at a few of them -
Knee surgery helps in alleviating the severe pain you feel while running, walking, or standing.
Knee pain can be disabling as it keeps you from walking long distances. Knee surgery will restore your mobility. It will help you perform daily activities with complete ease.
When chronic knee swelling or inflammation doesn't get better with treatment or rest, knee replacement surgery can help. It reduces the need for physical therapy, medication, and other surgeries.
What are the Risks of Knee Replacement Surgery?
Every medical procedure comes with its own risk. Your orthopedic doctor in Chennai will explain this to you. Some possible complications related to knee replacement surgery are -
Bleeding
Artificial knee wearing out over time
A heart attack
Breathing problems due to anesthesia
Nerve damage in the knee
Knee stiffness
A stroke
You should get in touch with an orthopedic doctor in MRC Nagar when you experience the following symptoms,
Drainage from the surgical scar
Chills
Increasing pain, swelling, redness, and tenderness in the knee
People who receive artificial joints are always concerned about infections. In case of an infection, the doctor might have to remove the whole or a part of the artificial knee for treating the infection.
Sources
https://www.medicinenet.com/total_knee_replacement/article.htm
https://www.mayoclinic.org/tests-procedures/knee-replacement/about/pac-20385276
How Many Hours Does Knee Replacement Surgery Take?
The surgery lasts for 1-2 hours. After the surgery, you have to spend a few hours in recovery before being moved to the hospital room.
How Painful is Knee Surgery?
General pain might occur following several weeks after the total knee replacement surgery. Swelling usually lasts for 2-3 weeks after the surgery, and bruising might last for 1-2 weeks after the surgery.
How Old is Too Old for a Knee Replacement Surgery?
A knee replacement surgery can also be done in patients who are over 75 years of age, provided they are healthy and fit, and their daily life activities are restricted by painful knee joint arthritis.

Book Appointment