Physiotherapy and Rehabilitation
Physiotherapy refers to a recovery technique that helps a patient get relief from an existing condition or cope with the pain associated with a surgical procedure or a medical condition. It is a process that does not require a lot of medicines, surgery or injections.
Rehabilitation helps a patient get back self-sufficiency after an illness or injury.
To know more, consult a physiotherapist near you or a rehabilitation specialist near you.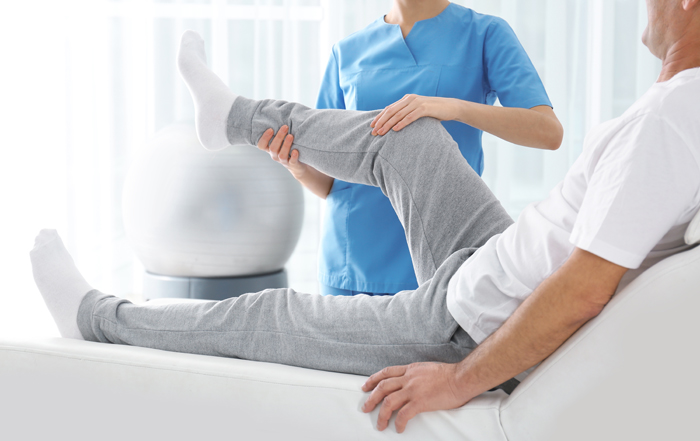 What do we need to know about physiotherapy and rehabilitation?
There's a misconception that only those patients who have muscular or bone-related problems can go to a physiotherapist. But, this is not entirely true. However, physiotherapy is of many types and several disorders can be treated with the help of this process. It uses muscle stretches, traction, hot and cold wax baths, paraffin baths, electrical stimulation and many such therapies to treat a patient's conditions.
If you have suffered from a disease or an injury or a side effect of a medicine, you need rehabilitation that includes:
assistive devices
mental health counselling
music or art therapy
nutritional counselling
recreational therapy
speech-language therapy
and many more depending on the kind of injury or disease you have suffered from.
Who qualifies for the treatments?
People who have lost their skills or abilities to carry out normal activities
If a person has injury, trauma, burns, fractures and other injuries, he/she can look forward to connecting with the best physiotherapist in MRC Nagar
If a person suffers from a stroke
Persons who have severe infections, major surgery, medical side effects, congenital disabilities, genetic disorders or developmental disabilities
Request an appointment at Apollo Spectra Hospitals, MRC Nagar, Chennai.
Call 1860 500 2244 to book an appointment.
Why are the treatments done?
Patients who suffer from muscular problems, cardiac disorders or neurological disorders can be treated using these techniques. Also, physiotherapy can treat conditions like Parkinson's.
The treatment of rehabilitation helps people get back to their daily life. Those who have suffered from injuries and cannot use a part of the body undergo this treatment. Patients who have suffered heart attacks can undergo the process of rehabilitation.
What are the different types of physiotherapy and rehabilitation?
The seven types of rehabilitation therapy include:
Physical therapy - improves the movement dysfunction.
Occupational therapy - focuses on restoring an individual's ability to perform daily activities.
Speech therapy - helps patients deal with difficulties in speaking.
Respiratory therapy - helps people having a problem in their respiratory systems.
Cognitive therapy - improves memory.
vocational therapy - helps people return to work after an injury, illness or medical event.
Different types of physiotherapy include:
Soft tissue mobilization
Kinesio taping
Cryotherapy and heat therapy, therapeutic ultrasound
What are the benefits?
Physiotherapy is used as a mainstream treatment. It helps people get rid of pain. Rehabilitation helps a person get their abilities back. The treatment process depends on how severe the injury is. A person with a lung disease can benefit from the process.
Conclusion
There are no risks associated with the treatment processes. Also, the devices used in such processes do not show any side effects. At first, the body may take time to adapt to the processes. So, be patient.
Are these processes painful?
These processes are not painful.
Can these processes be a quick fix?
In many cases, these processes are a quick fix. But, it can take some time for patients to recover in case of serious issues.
Can I do the exercises on my own?
In most cases, a physiotherapist will allow you to do the exercises on your own. Connect with the best physiotherapist in Chennai for positive outcomes.

Book Appointment