Gastric Banding Surgery in MRC Nagar, Chennai
Bariatric surgery, also known as weight loss surgery is a procedure of making alterations to the way your body digests food. This alteration further results in the loss of excess weight from your body.
Gastric Banding surgery is a type of bariatric surgery which helps in treating obesity by constricting the stomach. It is a restrictive procedure wherein a person feels satisfied even with a little amount of food. It is a surgery performed by bariatric surgeons which takes from 30 to 60 minutes to complete.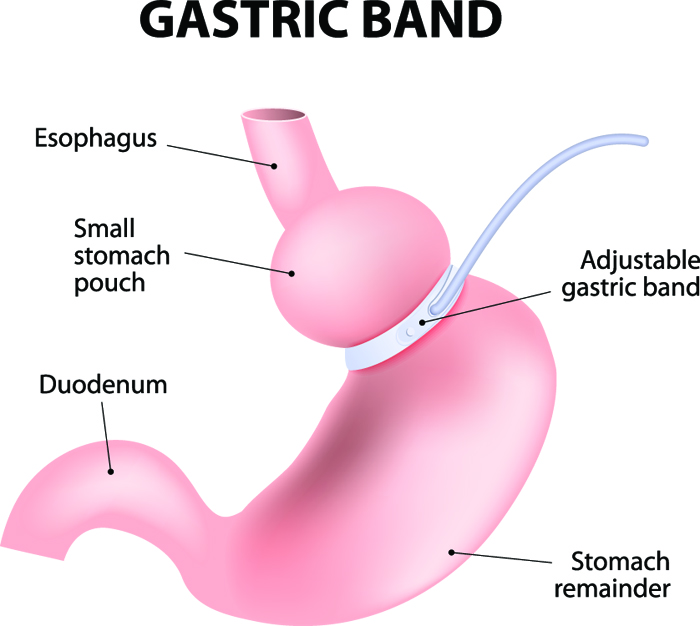 What is Gastric Banding?
An adjustable gastric band made of silicone and a laparoscope, a camera to view the inside of the stomach, are the instruments used for surgery. The surgeon makes some incisions in the abdominal area through which the laparoscope makes its way inside.
After this, the band is inserted and fitted around the stomach, tightening the upper part of the stomach. A tube connecting to the reservoir is placed in the lower portion of the abdomen. The surgeon can inject saline water into the port to inflate the band.
Before the surgery, your doctor will conduct a physical examination and blood test to assess whether you are fit for the surgery. You need to be transparent about your medical history and clarify if you are on some medicines or supplements. After surgery, six weeks rest is mandatory for regaining health during which you have to follow the dietary pattern and exercise as prescribed by your doctor.
Who should have Gastric Banding Surgery?
Gastric Banding Surgery is one of the weight loss surgeries approved by the FDA. The surgery is mostly recommended to people who have a long history of being obese. Such people may also have chronic eating problems leading to them being overweight.
If your Body Mass Index (BMI) ranges from 35 to 40, your doctor may consider you an ideal candidate for the surgery.
You should have Gastric Banding Surgery done if your obesity can lead to comorbidities like diabetes, hypertension, asthma, or heart-related conditions.
However, you may not be eligible for the surgery if you are:
Excessively addicted to alcohol or drugs
Unwilling to change your lifestyle post-surgery
Diagnosed with gastrointestinal problems such as ulcers
Have a Bleeding disorder or chronic allergic reaction
If you are considering gastric banding surgery, consult a bariatric surgeon near you.
Request an appointment at Apollo Spectra Hospitals, MRC Nagar, Chennai
Call 1860 500 2244 to book an appointment.
Why is Gastric Banding Surgery done?
Gastric Banding is the least invasive surgical procedure for losing weight which is the reason for its increasing popularity. Gastric Band Surgery benefits patients who have already tried other non-surgical options such as dieting and exercise but did not see fruitful results.
It is highly recommended by doctors in patients who are suffering from any comorbidity or are on the borderline of developing one. Furthermore, it helps to curb the habit of binge eating by ensuring that you feel satisfied even with a small amount of food.
What are the benefits of Gastric Banding Surgery?
Nowadays, people are adopting other weight loss treatments for quick results. However, the pros of getting a gastric band far outweigh its cons. Some of the benefits are:
Lower Mortality Rate
No cutting of any organ or stomach
Quick recovery
Reduced Appetite
Slightest disturbance in daily activities
Minimal chances of infections
Reversible procedure if the band is no longer needed
What are the risks associated with Gastric Banding Surgery?
The surgery being an invasive operation may involve certain complications. Considering the use of anesthesia during the operation, adverse reactions may develop as allergies, dizziness, nausea, vomiting, or infection might manifest.
Other risks may include:
The band may shift or slip from the operated part
Injury or inflammation in the stomach lining
Eruption of gastrointestinal problems or ulcers
Pain or discomfort
Vomiting in case of overeating
Difficulty in the adjustment of gastric band
Deficient nutrition in case of unhealthy food intake
If you face any of the above problems, immediately consult your doctor.
References:
https://www.medicalnewstoday.com/articles/298313
Is Gastric Banding a safe procedure?
Gastric Banding ensures maximum safety with a mortality rate equivalent to 0.03%. Moreover, it is performed under the supervision of specialized bariatric surgeons leading to minor complications.
Is it possible to get pregnant after surgery?
Yes, you can conceive after the operation. However, in a report published under the Journal of Obstetric, Gynecologic, and Neonatal Nursing, 2005, one should wait for 18 months. Consult your doctor before getting pregnant.
How much weight loss can I expect?
You can expect to lose around 30-50% within a period of 6 months to 1 year. However, it also requires regular exercise and a healthy diet for improving the weight loss results.

Book Appointment