ERCP Procedure in MRC Nagar, Chennai
Endoscopic Retrograde Cholangio Pancreatography (ERCP) is an endoscopic procedure deployed to treat gallbladder, biliary system, pancreas and liver diseases.
To seek treatment, you can consult a gastroenterologist near you. You can also visit a multispeciality hospital near you.
What do we need to know about ERCP?
It involves the combined use of X-rays and an endoscope (a thin, flexible and long tube with an attached camera). A doctor will place the endoscope through the mouth and the throat into the esophagus, stomach and duodenum (initial part of the small intestine) to diagnose and treat gastrointestinal diseases.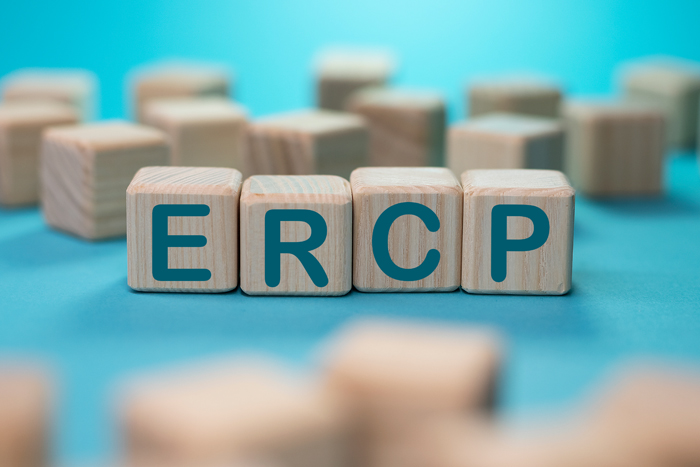 Who qualifies for this procedure?
ERCP is used for gastrointestinal diseases primarily involving the liver and the pancreas. Your doctor may recommend ERCP if you suffer from the following:
Jaundice
Dark urine and lighter stools
Bile or pancreatic stone
Tumor in pancreas, liver or gallbladder
Injection in liver or pancreas
Gallbladder stones
Acute and chronic pancreatitis
Liver or pancreatic cancer
Strictures within the duct
How is this procedure performed?
This procedure is performed under local anesthesia and sedative. Sedatives offer relaxation and comfort during the process.
The doctor will then place the endoscope via the mouth passing through the esophagus into the stomach or the duodenum. The endoscope also pumps air in the stomach and the duodenum for clear visibility on the examination screen.
During the procedure, the doctor will inject a special dye called contrast medium via the endoscope to make duct blockages and narrowed areas more visible on X-rays.
Tiny tools are placed through the endoscope to open the blockages, remove gallbladder stones, remove duct tumors for biopsy or insert stents. This whole process can take up to a couple of hours.
What are the risks?
ERCP is a very safe procedure. But some complications may arise in 5 to 10 percent of the cases, such as:
Pancreatitis
Infection in the affected part
Excessive bleeding
Any allergic reaction to sedatives
Perforation in the bile or pancreatic ducts or the duodenum
Cells and tissue damage from X-ray exposure
You should immediately seek medical attention in case of such complications.
You can request an appointment at Apollo Spectra Hospitals, MRC Nagar, Chennai.
Call 1860 500 2244 to book an appointment.
Conclusion
ERCP is a beneficial medical procedure for diagnosing and treating gastrointestinal diseases involving the bile ducts, gallbladder, liver and pancreas. It is comparatively safer than its counterparts as it is minimally invasive and has a higher success rate. Therefore, it should be part of a multidisciplinary treatment algorithm.
What can be the symptoms that require medical attention after ERCP?
If you experience symptoms like dark and bloody stools, pain in the chest, shortness of breath, fever, abdominal pain, throat pain or bloody vomit, you must immediately consult your doctor.
Are there any alternatives to ERCP?
Sometimes, radiology procedures or advanced surgeries like laparoscopic surgery are performed. But nowadays ERCP is more common because it is a minimally invasive and relatively safer procedure with a higher success rate.
What is the recovery period after ERCP?
The patient is allowed to go home after 3 to 4 hours or a maximum of 24 hours until the effect of sedatives subsides. You may experience nausea or temporary bloating after the procedure and a sore throat for 1 to 2 days. You can switch to a regular diet once swallowing becomes normal.

Book Appointment