Fistula Treatment & Surgery in MRC Nagar, Chennai
What is Fistula?
A fistula is a passageway that connects two vessels or organs of the body that are not usually connected. The common location of placement of the fistula is around the anus. However, it can be developed in other parts such as the intestine and skin, between rectum and vagina, or other parts of the body.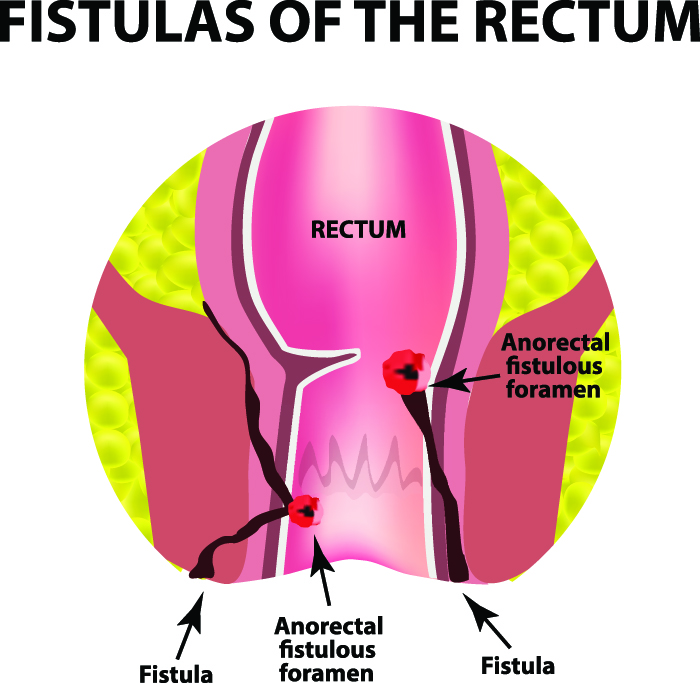 What are the Types of Fistula?
Some of the types of fistula are as follows:
Anal fistula - It is the connection between the perianal canal and epithelialized surface. An anal fistula occurs between the skin opening around the anus and anal canal.
Urinary tract fistula - It refers to abnormal openings within the urinary tract and other organs.
Other Types - The other types of fistula are as follows:

Enteroenteral fistula - It occurs in two parts of the intestine.
Colocutaneous fistula - It occurs between the small intestine and skin.
What are the Symptoms of Fistula?
Depending on the types of fistulas, some of the common symptoms of fistula are as follows:
Abdominal pain
Diarrhea
Vomiting
Nausea
Fluid drainage from the vagina
Feces into vagina
Urinary Tract Infections (UTI) frequently
Constant urine leakage from the vagina
Irritation in external female genital organs
What Causes Fistula?
Fistulas are generally caused by surgery and injury and may also occur after an infection that may lead to inflammation. Inflammatory bowel conditions such as ulcerative colitis and Crohn's disease are some of the conditions that may cause a fistula. Some of the other causes of fistula are trauma, radiation, cancer, tuberculosis, sexually transmitted disease, and diverticulitis.
When to See a Doctor
If you witness any of the fistula symptoms, you should immediately contact your healthcare professional to plan a further line of treatment.
Request an Appointment at Apollo Spectra Hospitals, MRC Nagar, Chennai
Call 1860 500 2244 to book an appointment.
What are the Risk Factors Associated with Fistula?
Some of the factors that lead to a rise in the need for doing fistula are -
Cardiac catheterization
Certain medications
High body mass index
High blood pressure
Old age
Genetic conditions
Congenital conditions
Certain medications
What are the Complications of Fistula?
Fistula can cause complications. Some of the serious medical complications of fistula are as follows:
Blood clots - Fistula can cause blood clots. For instance, arteriovenous fistula in legs can cause blood clots to form vein thrombosis; depending on the location of the fistula, it may lead to stroke.
Bleeding - Fistulas can sometimes also lead to bleeding.
Leg pain - Fistula in the leg can lead to severe leg pain.
Heart failure - It is one of the severe fistula complications; the heart pumps harder to increase the blood flow. Thus, increased load on the heart can lead to heart failure.
How Can We Prevent Fistula?
Some steps in your regular activities can help you prevent fistula. A few of them are as follows:
Avoid strain during bowel movement
Exercise regularly
Consume fiber-rich diet
How is Fistula Treated?
Fistula is treated by healthcare professionals such as urogynecologists, colorectal surgeons, and gynecologists. The medical professional would decide the treatment plan depending on the size, condition, and location. A severe fistula may require surgery. Some of the treatment options for fistula are as follows:
Non-Invasive Treatment - Some of the non-invasive options for the treatment of fistula are as follows:

Fibrin glue a medicinal adhesive to seal fistulas
Plug a collagen matrix to fill the fistula
Catheters are used to manage fistulas
Surgical Treatment - Some of the surgical treatment options are as follows:

Laparoscopic surgery a minimally invasive surgery for the treatment of fistula
Transabdominal surgery is accessed through abdominal wall incision
Pharmaceutical Treatment - Antibiotics and other medications are used for the treatment of infection of the fistula
Conclusion
Fistulas usually occur due to injury or infection. It is a connection between two body parts or organs that are not connected. An injury can lead to the formation of fistulas between veins and arteries. Every patient has different symptoms depending on the body part connected to the fistula. Fatigue, skin irritation, pain during bowel movement, bleeding from the rectum, and others are common symptoms. Surgical and medications are the two options for the treatment of infections caused due to fistula.
In which body parts can fistulas occur?
Fistulas may occur in different body parts such as -
Artery and vein
Bile ducts and the surface of the skin
Neck and throat
Cervix and vagina
Bowel and vagina
Inside skull and nasal sinus
Stomach and surface of the skin
Uterus and peritoneal cavity
Navel and gut
Artery and vein in lungs
What tests are used for the diagnosis of fistula?
External fistula is diagnosed by performing blood tests, and internal fistula is diagnosed by performing endoscope, x-ray, and CTs.
Is it possible that fistulas heal on their own?
In some cases, it may get healed, but there are chances that it may get reopened. However, fistulas do not get healed on their own.

Book Appointment